Fleet Feet West Lafayette is committed to enhancing and growing our local running and walking communities by offering specialty products, educational resources, and training opportunities to assist the community in achieving their fitness goals. As we continue to be a vital resource in the community, we are committed to becoming more than just a store people shop at. We want to become a place that the community visits often because they feel comfortable and are truly amazed by the world-class customer service that we provide. We want to be a resource for all of West Lafayette / Lafayette's running and walking needs. We want to be a place that inspires every person, on every day, in every fitness activity they do.
We are a collection of people who share two passions: one for being active, and one for helping others achieve their fitness goals. We hope to share that with you! We run the same roads and races. We have experienced the highs of achieving a goal, and the lows of trying to rebound from an injury. We exist to share that knowledge and wisdom with you, and welcome you to our family!
Meet the Team


Cory Sengsanith - Operating Partner
West Lafayette has been Cory's hometown for many years. He graduated from Purdue University with a Bachelors Degree in Computer Information Systems and Programming. Cory has been with Fleet Feet since the day the doors opened in March 2012. He is an RRCA Certified Coach, and was previously a tremendous leader for our Training Programs. Cory is passionate about running and helping others see the true beauty of running while achieving their goals. For Cory, running is a stress reliever and relaxation tool. He enjoys the challenge of setting goals, working towards his goals, and meeting or exceeding his goals, which he believes has a positive influence on his kids and others. Some of his hobbies include spending time with his family, training for marathons, and competing in them.
Alisha McDade - Retail Experience Manager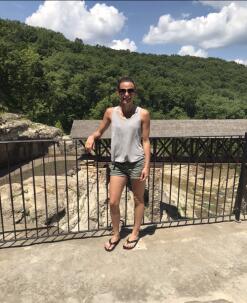 Alisha is from Francesville, IN and is a Purdue graduate, receiving a degree in Retail Management and Entrepreneurship. She has been running since she was in 6th grade and was involved in cross-country and track throughout middle and high school. Now she enjoys running recreationally and spending her time outdoors. Other than running, some of her favorite activities include DIY projects/crafts, cooking, camping, hiking, and spending time with her husband and dog.
Cara Hasser - Outfitter
Cara grew up near West Lafayette and calls the area home. Her running career began in 6th grade and she has loved it ever since. She participated in cross country and track throughout high school and continued competing collegiality for two years at two different universities. After finally making up her mind, she made her way to Purdue University, with hopes of pursuing a career as a dietitian. Cara currently enjoys running recreationally, hiking, cooking, reading, and spending time with her friends and family. She dreams of qualifying for the Boston Marathon with her father (or just winning one of the Fleet Feet sweepstakes).
Nicky Scher - Outfitter
Nicky is from Macy, IN and has been running since 6th grade. In high school she was involved with her school's cross country and track teams. After graduating highschool she attended Indiana University for one year before transferring to Purdue University. At Purdue she is majoring in Actuarial Science and upon graduating hopes to become an actuary. She now continues to run and is a member of the Purdue Run Club. Aside from running, some of her favorite activities include cooking, quilting, and hanging out with her friends.
Jennifer Redden - Social Media Coordinator
Jennifer spent the first few decades of her life not knowing how much fun running can be. However, running a 5K was on her bucket list, so she signed up for Fleet Feet's first training program and has been running with them ever since, first as a participant and later as a mentor coach. In 2017 she joined the Fleet Feet retail team. Passionate about running, Jennifer has completed several half-marathons, multiple 10Ks, and dozens of 5Ks. Jennifer likes to encourage other new runners in every age group and often points out, "If I can do it, you can do it." When she's not running, Jennifer enjoys spending time with her husband, Nick, and their little dog, Scout.
Maria Siciliano - Outfitter
Maria is from West Lafayette and graduated from West Lafayette High School before attending Cornell University, where she is currently majoring in English. She began track & field in 7th grade, and pole vaulted throughout high school. She is a current captain of the Cornell track & field team, and loves pole vaulting for the team. Maria hopes to attend graduate school for English after finishing her career at Cornell, while pursuing her love for running and fitness. In addition to training, she loves reading, baking, and hanging out with friends, family, or her dog.