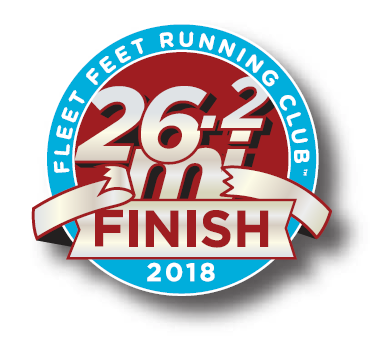 2019 Spring Marathon Training Program
Informational Meeting January 8th @ Fleet Feet Vacaville
Meeting Starts at 7:00pm
Group meets Thursdays @ 6:15pm & Saturdays @ 6:30am
We have dedicated and RRCA experienced coaching staff who use scientific principles and proven techniques to get you across the finish line.  Whether you are looking to complete your first marathon or are dreaming of a Boston Qualifier, Fleet Feet Vacaville offers programs for all levels and abilities.  Our training groups keep you accountable, focused and determined to the finish line.  Training includes:
18 week race specific training schedule
Two weekly experienced RRCA coach instructed training runs
There will also be a Competitive Marathon Program designed to take your running to the next level
Weekly training newsletter
Yoga on Sunday's @ Fleet Feet 9:00am
TRX Reward Program with Lucky CrossFit 4 (first class is free, earn FF GC)
10% Fleet Feet discount (excludes electronics) throughout training.  Sign up early and receive an additional 15% off apparel and accessories 1/1/19-1/14/19 (excludes electronics and Lululemon)
Goal Race:  Surfers Path on May 19, 2019 in Santa Cruz ,CA
Program Cost:  $155
Questions?  Email Jennifer@FleetFeetVacaville.com
Informational meeting
January 8 at 7 pm at Fleet Feet.
Training program launches
on
January 10th @ 6:15pm
Training Program Meets
: Thursdays @ 6:15pm, Saturdays @ 6:30am, Sundays @ 9:00am

Program Start: January 10, 2019. Informational Meeting January 8th @ 7 PM
Program Schedule: Thursdays @ 6:15pm, Saturdays @ 6:30am, Sundays @ 9:00am
Program Fee: $155 excluding race fee