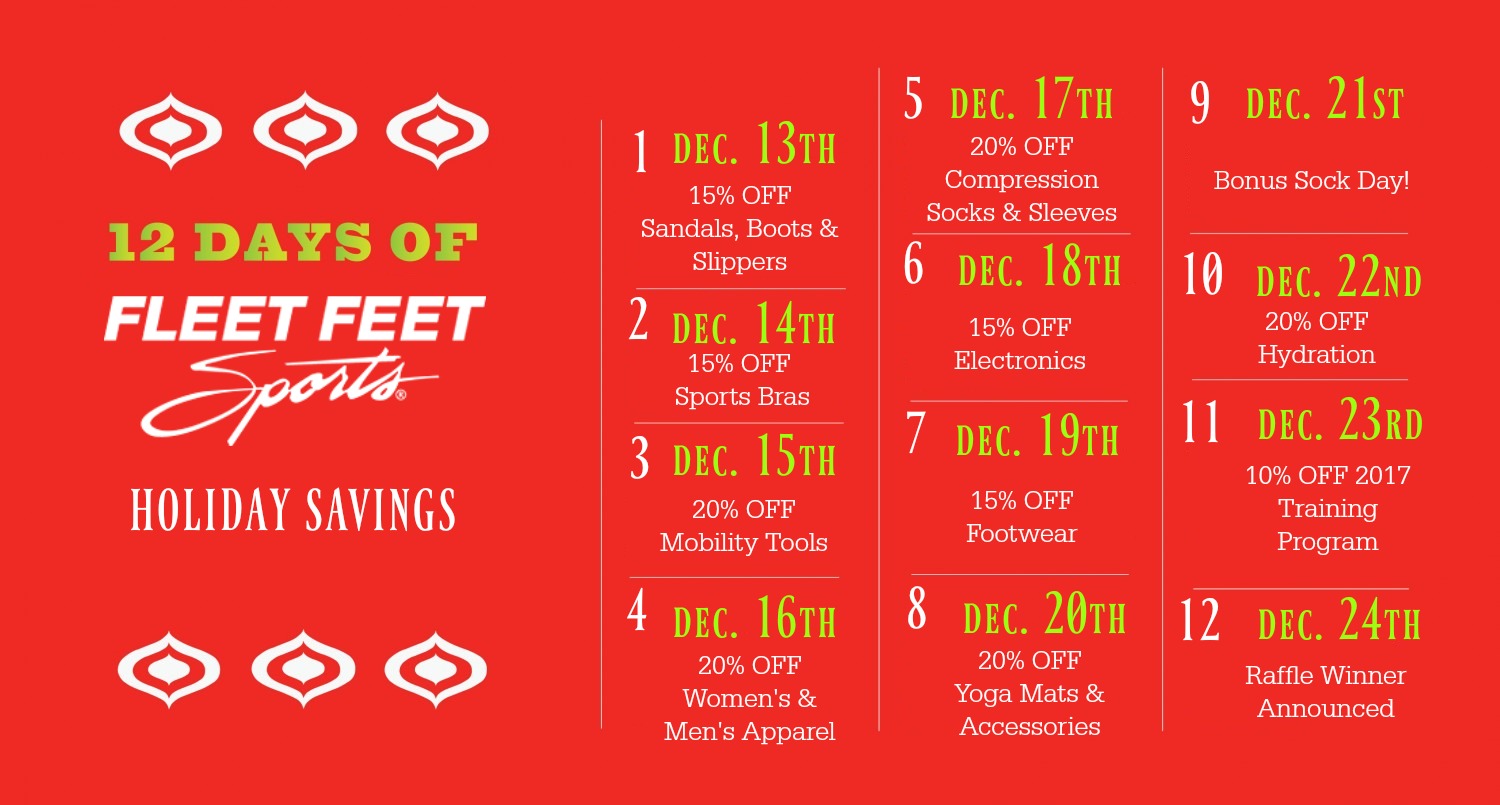 December 13th-

15% OFF Sandals, Boots & Slippers
December 14th-

15% OFF Sports Bras
December 15th-

20% OFF Mobility Tools
December 16th-

20% OFF Men's & Women's Apparel 
December 17th-

20% OFF Compression Socks & Sleeves
December 18th-

15% OFF Electronics
December 19th-

15% OFF Footwear 
December 20th-

20% OFF Yoga Mats & Accessories 
December 21st-

Bonus Sock Day! Buy 3 Get 2 Free!
December 22nd-

20% OFF Hydration Systems
December 23rd-

10% OFF 2017 Training Programs
December 24th-

 Raffle Prize Winners Announced 
- Garmin 235 (Black&Volt Fleet Feet Exclusive Color) $270 Save $60! Dec. 13th-24th. (Originally priced $330) 
-Earn 1 raffle ticket for every $50 purchased for a chance to win one of our themed stuffed stockings. Stockings to be raffled on Dec. 24th!
-Purchases over $75 will receive one of our Dare To Be limited edition insulated totes! 
-Purchase a gift card for $125 or more in the month of December and receive $25 in Fleet Feet bucks for use at our Vacaville location.
-Every gift card purchased in December will receive a 10% apparel coupon valid until 12/31/2016. 
-Don't forget our In Store Holiday Gift Registry- come in and pick out all of your favorite things so your loved ones know EXACTLY what is the perfect gift for you!
-Free gift wrapping by one of our Fleet Feet Sports elves.
-Socks Mix & Match Buy 3 Get 1 Free Dec 13th - 24th, 2016 
*Excludes clearance items. In stock merchandise only. Cannot be combined with other offers. Valid at Fleet Feet Sports Vacaville only. Raffle tickets earned for dollars purchased pre-tax. Dare To Be totes will be available while supplies last*