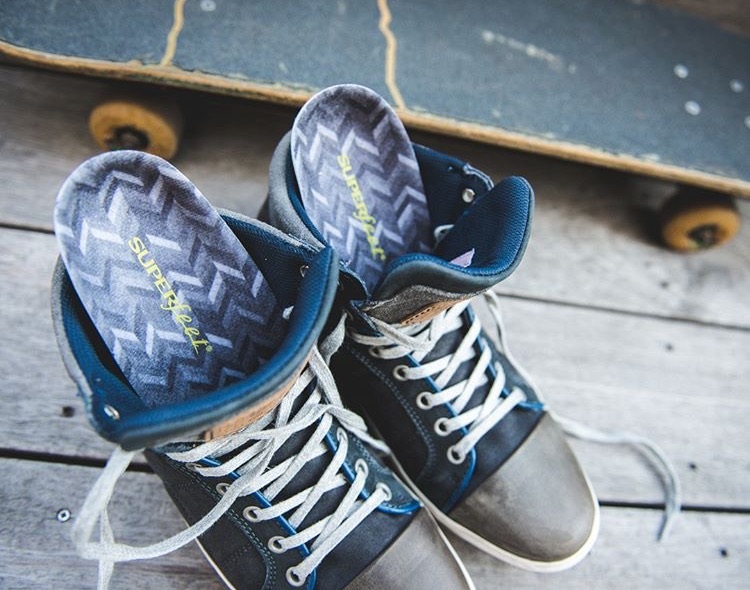 THE SUPERFEET DIFFERENCE
Since 1977, Superfeet has helped people accomplish some pretty amazing things
by changing the way their shoes fit, feel and perform. 
All our biomechanically correct products are based on the principles of podiatric medicine
and can help a wide range of foot health related issues.
Superfeet founders Dennis and Chris
designed the first pair of Superfeet based on the principles of podiatric medicine.
The distinct shape was crafted to work in harmony with the foot in motion. 
For over 35 years, we've stayed true to making the best insoles on the planet. 
And they are just getting started.
Come into Fleet Feet Sports Roanoke today to be professionally FIT into Superfeet.
WHEN DO I NEED NEW SUPERFEET?
One of the benefits of working at Fleet Feet Sports is having co-workers that will tell you when it is time to let go of your favorite Superfeet.  There are four signs to determine if it is time to be re-FIT for Superfeet.
1) If any of the Green plastic (or Blue, Berry, Orange, etc.) is slightly white or looks to like it is bending it is time to replace.
2) Does the medial arch support look worn.  You can see this in the second photo with the right arrow.
3) Are you starting to wear through the top covering?  I love that my footprint is embedded on the top of my Superfeet because I feel that have I have earned that indentation.  But, it is time for me to invest in a new pair.
4) And last but not least - if you can't read "Superfeet" anymore on your insole - we look forward to seeing you soon!