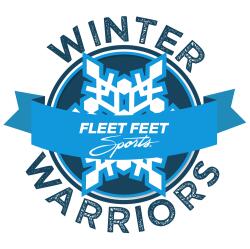 BEGINNER HALF MARATHON - LET'S DO 13.1!
If you're considering training for your first half marathon and don't want to run those cold miles alone this Winter, this program is for you! We'll meet as a group on Wednesday evenings to complete workouts starting at 3 miles, and on Saturday mornings for long runs. You'll benefit from having the support of a group of participants and a coach on every group run. You'll also learn how to properly fuel for your race, avoid common half-marathon mistakes, supplement your running with strength work and cross training, and much, much more!
FREQUENTLY ASKED QUESTIONS
Q: When does the program meet?
A: Our half marathon program meets on Wednesdays at 6 p.m. and Saturdays at 8:00 a.m.
Q: How much does the program cost?
A: Registration costs $100. This includes a sweatshirt, coach-led workouts two days per week, a detailed training plan and discounts in the store. The program also features a series of short seminars on topics like running form, injury prevention, cnutrition, apparel and gear, foam rolling, compression, and race preparation.
Q: I've never run a half marathon before. Is this program really for me?
A: At Fleet Feet Virginia Beach, we specialize in training beginners! However, prior to the start of the program, all participants must be comfortable running or using run/walk intervals to complete 3 miles at a 14:30 minute/mile pace or below. For our half marathon program, we do not offer a walking pace group option.
Q: Will there be other runners going my pace? Will I be left behind?
A: Everyone is encouraged to "run your own pace, run your own race" but no one is EVER left behind. Participants usually end up finding someone during training that they run with most of the time.
Q: If I have to miss a workout or two, does that mean I can't be part of the program?
A: Of course you can still be involved! We would love to have every training group participant at every run, but we understand that life and obligations may occasionally get in the way.
Q: The program has a specific goal race. What if I prefer to run a different half marathon?
A: You're free to run whichever half marathon you choose! Our workout plan will lead up to the day of the group goal race, but if you're running your race on a different weekend, check in with our coach and she will tweak your plan so that you can peak and taper at the right time!
Q: How do I register?
A: Please register at our store in Virginia Beach. We do not offer online registration at this time.
Questions?
Contact our training program coordinator, Angie, at angie@fleetfeetvabeach.com