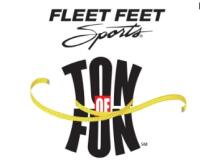 Ton of Fun
"No Excuses Challenge"
Start off your New Year with

NO EXCUSES!

  
Starting Saturday, January 10 @ 2:00pm,  Fleet Feet "Ton of Fun - No Excuses Challenge" will help you start your year off right with a program that will teach you how to lose weight in a fun, effective way!  We will also teach you how to keep it off for the future. 
Oklahoma now has the seventh highest adult obesity rate in the nation, according to "The State of Obesity: Better Policies for a Healthier America". Oklahoma's adult obesity rate is 32.5 percent, up from 24.1 percent in 2004 and from 10.3 percent in 1990.  Fleet Feet Tulsa's mission is focused on assisting Oklahoman's to become healthy and active in 2015. 
Why should you choose the
"

Ton of Fun – No Excuses Challenge

"

instead of other programs?
It's very affordable and gets you focused on starting to eat better! 
It is only 6 weeks long  
We keep it simple by looking at what you are doing now and then adjusting to improve your daily meal planning
We teach you how to eat out and grocery shop smarter
We make you accountable daily so you aren't tempted to get off track
We maintain your privacy and confidentiality 
We mentor you along the way, answering your questions and keeping you focused on your goal of losing weight and getting fit!
We educate and empower you so that this isn't just another diet, it is something that becomes a part of your daily life
We will work with you on a Rewards system that has meaning for you!
We will celebrate your achievements along the way!
What happens when you join the
"

Ton of Fun – No Excuses Challenge

"?
Attend our kick off and orientation meeting.  Here you will weigh in and receive your first Packet of Information:
                                          i.    Portion control discussion
                                         ii.    Grocery store Survival 101 Guide
                                        iii.    How to Eat Smart when Eating out
                                        iv.    Meal Planning and Prep
You will set up a personal Myfitnesspal profile and log your food and exercise as part of the accountability portion of the program.
You will be given a weekly grocery shopping list, as well as weekly meal ideas that you can pick from to make a week's worth of meals. 
You will be added to our special, closed Facebook group to answer your questions and provide you continual support!
You will be asked to weigh in weekly to keep you accountable and on target with your goal of losing weight and becoming healthier and fit!
You will have an opportunity to meet with our Certified Personal Trainer to come up with a fitness plan to get your exercise jump-started.  
Finally, we will guide you through your journey, be honest with you, encourage you and cheer you on every step of the way!  No diet is lifelong; there are no gimmicks that will keep the weight off.  Studies show us that choosing a healthy lifestyle eating plan will ensure you of success as well as help you lead a productive, active, healthy life without unnecessary sacrifice.  At Ton of Fun, your leaders have been through the same journey that you are embarking on so we know where are starting from.  We will offer one-on-one mentorship to help you create a realistic eating lifestyle plan and approach that will last.
Whether you are a walker or runner, there is simply no amount of exercise out there that can undo what you eat.  With our "Ton of Fun – No Excuses Challenge", we are here to get you started on that lifestyle eating plan that will mean success for the future!
Program Benefits:  
Weekly emails with a healthy, delicious recipe, fit tips and meaningful encouragement!
Closed Facebook support group & weekly fit challenges
Weekly weigh ins for accountability
Grocery Shopping 101 Guide
How to Eat Smart When Eating Out
6 weeks of food lists & meal ideas you can use, along with a grocery list to help you when you go shopping!
Guidance & accountability through a daily logging of food and exercise using the Myfitnesspal App on your mobile device
Cost:  $25
Starts: Saturday, January 10 – February 21.  Initial weigh in & orientation clinic is January 10th at 2:00 pm at 52 Fitness
Testimonials
Heather H.
"Last January I got an email from Fleet Feet about a weight loss challenge called Ton of Fun. I was curious so I went to the Ton of Fun open house to check it out and signed up that day. I got my "before" picture taken and started on my weight loss journey. At first it was really hard, but I never gave up. Of course I had thoughts like, 'I can't do this!' and 'I'm dying!', but I just ignored them and stuck with it. Months went by and I slowly started to see the number on the scale go down. I was really doing it! The classes I was going to were kicking my butt, literally! I could feel muscles starting to form and things getting firmer. The staff at 52 Fitness, especially Becky and Ryan, really gave me the confidence to think differently about my body image and my abilities. I think when I bought a bathing suit in the summer for the first time in 10 years and it was a size medium, I realized I could do most anything I set my mind to doing. I started really running. I joined No Boundaries with Fleet Feet and blew away any previous 5K times I had run. Ton of Fun was the catalyst that got me to really make changes that I will maintain for the rest of my life. I still struggle, especially during the holiday season, but I know that I can't focus on the negative and say I can't do something, because I CAN do it. Ton of Fun and 52 Fitness were there to help me through my personal weight loss journey and I am forever grateful.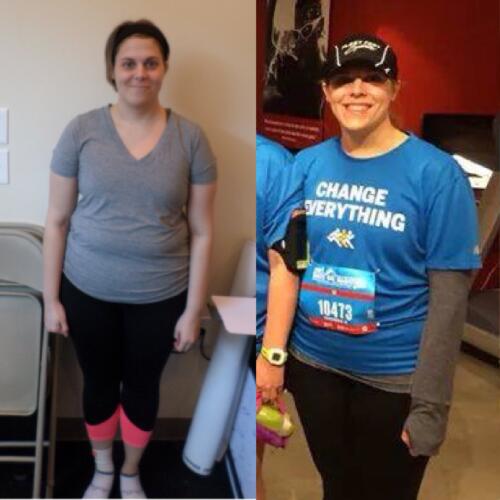 Nicole N.
"I realized at the holidays in 2013 that I needed to make a change. I had continually put on weight after having my daughter three years before and was uncomfortable in my own skin. In January, I joined 52 Fitness and the first Ton of Fun Program. The weekly weigh-ins, support and classes gave me the tools I needed to make a real change in my life. In May, I began running with Fleet Feet and in October, I completed the 15K Tulsa Run - something I never would have dreamed of doing a year ago. The classes at 52 Fitness helped me slowly increase my level of exercise and increase my fitness. I am grateful to Becky, to the Ton Of Fun program and to the other participants for their unwavering support. It is not a diet, but a lifestyle and I still see myself as a work in progress. Today I am much more comfortable in my own skin and am challenging my body to do more and more each day."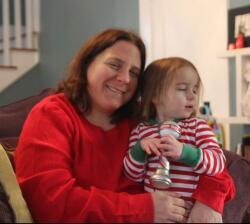 Lesley M.
"In January of 2014 I knew that I had gotten out of shape. I'd gained more weight over the previous few months than I generally like to acknowledge, but I lacked the motivation to make any changes. A friend challenged me to join Ton of Fun and I decided to go all in. The staff at 52 Fitness gave me support every step of the way. Encouraging me to participate in challenging workouts right from the start, they taught modifications to every exercise that allowed me to succeed as my fitness level increased. The friendly support of staff and fellow participants throughout helped me to make positive choices. We set reasonable goals that were achievable through a commitment to regular activity and clean eating. Weekly weigh-ins create accountability, with successes celebrated and setbacks analyzed and discussed in a positive approach. The classes at 52 Fitness offer a variety of activities that are effective for people at any fitness level, and the offerings at different times of day allow me to fit them into my schedule. Through hard work, commitment and encouragement to consistently push my limits, I've managed to lose over 45 pounds in 7 months. I've participated in two sessions of TOF, and the good habits I've developed have stuck with me, between sessions and even during vacations. I've gained energy, strength and confidence in myself that allows me to more fully enjoy all aspects of my life. I will never be the thinnest girl in the room, but Ton of Fun helped me to discover the tools that work for me to feel strong, beautiful and in control of my body."