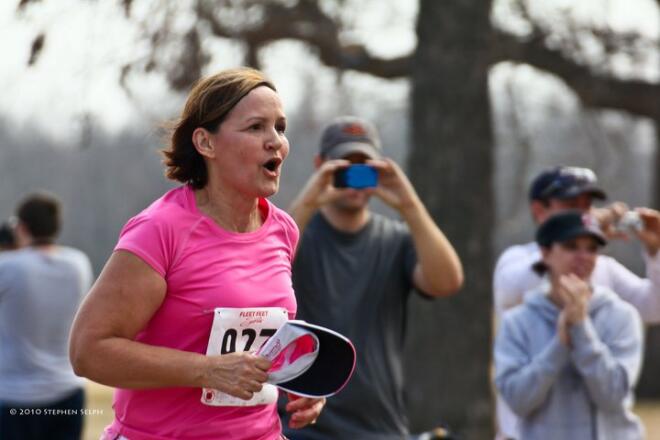 "Time waits for no man," as the saying goes, but that doesn't mean we have to let the sands just slip on through the hour glass. Edna Wall, one of our long-time participants and coaches, started running at "59 years young."
For her, the impetus to lace up her kicks came from her soon-to-be daughter-in-law. "She wanted to run a 5K. I knew I was older, but I decided to try it anyway." To get her running legs, she joined Fleet Feet No Boundaries back when it was called P1, P2, and P3.  "Of all places I ended up in P1, because I wanted to keep up with my daughter-in-law who was 20 something at the time."
Anyone who has been in a Fleet Feet training programs knows this singular truth: we run no matter the weather. Rain, cold, sleet, heat; we rarely cancel a session. Such was the case for Edna's first night at NoBo.  Maybe she's blocked it out, because she said, "I don't really remember the first session, but this is what I remember.  A coach named Jim push[ed] us to go faster and with no excuses.  A coach named Leslie was in the back and she was very nurturing.  Of course, I did not want to ever be in the back.  Maybe it was the age thing.  Who knows.  We ran with sleet coming down, but I was not going to miss a session and get behind."
She and her daughter-in-law ran the Cinco De Mayo race, one of our springtime favorites. To her everlasting excitment, Edna finishedin 32 minutes. She said, "for my age that was awesome." [Editor's note: we think it's awesome regardless of age!] Even better than that, Edna placed first in her age group. The day was not without its challenges, however. Edna's daughter-in-law hyperventilated so she missed hearing her name called at the awards ceremony. "I was in the ambulance with her and did not hear my name." She didn't find out until later.
All of that was many miles and years ago. Edna has become a coach for Fleet Feet, encouraging new runners the way she was encouraged. "I keep running, because it has become a way of life for me.  I have a lot of friends my age and they are so envious.  Most of them are really suffering physically, but the running seems to have been my key to staying young."
Edna has coached No Boundaries and Pathways, and led M4B as the head coach for a couple of years.  She is now a floater for the marathon training for the slower groups. The sands of time keep up their march, and she said, "I definitely have slowed down now that I am 65, but that is a good thing for me." Instead of fighting it, Edna has embraced it in a way that allows her to continue doing something she loves.  
Her goal is to run 10 marathons. " I will be running Little Rock which will be my 9th marathon.  I am contemplating doing number 10 when Route 66 has its 10th anniversary," in 2015. 
Her favorite gear: "I seriously am obsessed with my black Brooks jacket.  I have had it for 3 years or so and wear it anytime it is cold.
Her best running advice:  My best running advice it to run with a group and make friends who will help and support you.  Also, run for you, not for anyone else.  Don't worry what anyone thinks about you.  We are all different.  Some are more athletic, some are not.  It does not matter.  Just get out there and do it.
- Edna Wall