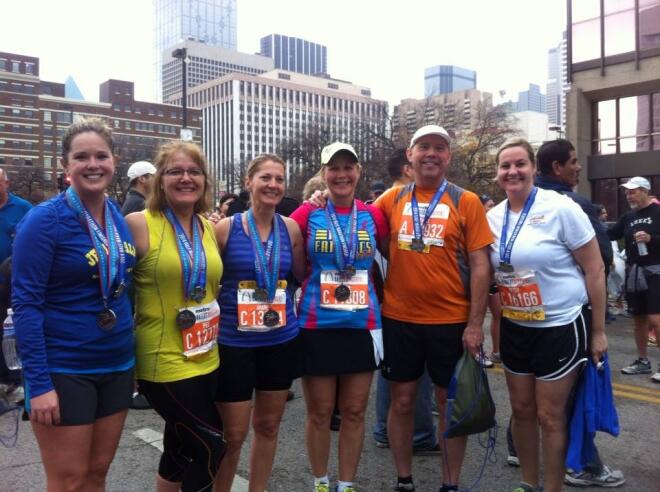 In 2011, Peg watched as a fellow participant at Weight Watchers changed the shape of her body, and she suspected that dropping pounds was only part of the equation. Peg mustered up the courage to ask her what made the difference.
The answer spawned a whole new interest for Peg. The woman at Weight Watchers was participating in Fleet Feet's 5k program. Within a week, Peg had registered for the program and had recruited a friend to join with her. 
Many people who join No Boundaries share Peg's experience. That first running interval, 60 whole seconds, can be daunting. "Laura Thomas was the head coach and we loved her from the start…. It was very hot that summer, and … while I'm not certain of the length of time we walked, I remember every second of that first minute of running. Oh, my gosh. Oh, my gosh."
Near the end of the session, one of the coaches happened to mention the timing of the intervals. Peg realized that now, instead of walking longer and running shorter, she was running longer intervals and needing fewer walking breaks. "We were walking for five minutes and running for twenty-five. Flashback to the challenge of that first minute!I will never forget that first minute.
Peg was happy she had her enlisted her friend Cristie to run with her, but she was also put at ease by the coaches. "I could tell it was going to be fun because the coaches seemed to be regular people; they were friendly, conversational during the runs, and genuinely happy."
Beginning something new is a mash up of excitement and anxiety. Peg said it was both easy and hard to become a runner. "It was hard because the challenges were new, at the same time it was easy because the challenges were new." What surprises her now is that despite knowing how hot it was that summer, she doesn't remember that; just the challenge of each new workout.
Her goal race was the Route 66 5k. While she felt her physical training was sufficient, she struggled mentally. "I convinced myself that I needed to walk some." But, the day was like a dream. "It was a crisp, cool morning and we paced with Laura. I remember facing the hill up 15th to Peoria." Their coach reminded them that their training had prepared them. "That is when doubt seeped in. But, up the hill we went and down to Woodward Park.... and on to the finish line. My walking separated me from Laura..but I finished!".
Since that first 5k, Peg has trained for and completed more of that distance in addition to 10k and half marathons. In fact, just one year later, she ran her first half marathon: the Route 66. She's got plenty more on her agenda, too. She has plans to run "the Cowtown, Aquarium, Garmin and Fayetteville Half Marathons this spring. [I] achieved Half-fanatics earlier this year and [am] now thinking about the 50 States challenge." That's a lot of miles from running her first full minute.
Peg now coaches with Fleet Feet. She says that even after a year in coaching, "I still feel unworthy. I hold coaches in high regard. To be among their ranks is an honor. I enjoy encouraging participants and I appreciate how they enrich my experience. I remain challenged to keep a pace….I want to be a good coach.
Peg started her running journey four years ago, and she has continued to find reasons to run. "I run because some of the dearest friends I have are my running friends. Because of the way it makes me feel mentally and physically. Because, now, I can't imagine this not being a central part of my life." Peg encourages runners to enjoy the run. "Find YOUR pace, YOUR breathing, YOUR joy. It is all awaiting you not only at every finish line but on every trail.