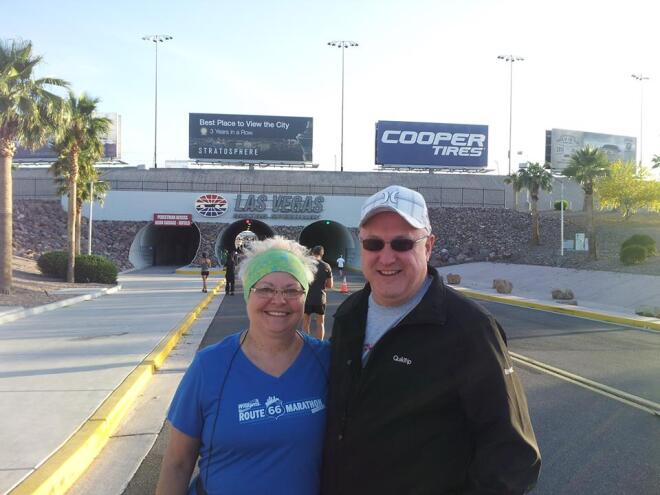 Many of you who participate in WalkFit may already have the good fortune of knowing Rose. She's been walking with Fleet Feet since 2012, and as you'll hear from her story, it's been more than just miles Rose is conquering. Rose is the new coordinator of the WalkFit programs at Fleet Feet. Her energy, zest and sense of humor will be obvious to you as you get to know her. .
Rose's journey to WalkFit began by way of No Boundaries. 
In July of 2012, her daughter Mary was diagnosed with Non-Hodgkin's Lymphoma. "I felt like the life had been sucked out of me." That news was challenging enough on its own, but Rose had relocated to Oklahoma, and her daughter was in Ohio. Being that far away seemed to compound the worry. 
For 4 months Rose flew to Ohio every 3 weeks to take care of her grandchildren while her daughter had treatment. When Mary learned that the chemo didn't work and that she would need a stem cell transplant, Rose simply relocated to Ohio to help her daughter. While Mary was in treatment to kill the cancer, Rose took another blow. Her mother was diagnosed with breast cancer. The hits didn't end there. Rose then discovered that both her sister-in-law and a very close cousin were diagnosed with lung cancer. 

One month into "this nightmare I walked into a NoBo launch meeting at Faith Lutheran in Owasso and ended up signing up that night.  I was 57 years old, over-weight, diabetic and mad as hell.    I serious felt like I needed to beat on something.  Guess what?  I did!  I beat the pavement with beginning No Bo, pounding Cancer, chemo, fear and anger into the pavement." Rarely is walking or running ever only about walking or running.
Somewhere along the way, Rose grew tired of the pain in her knees and in her Achilles. Frustration settled over her even as she struggled  to care for four women she loved. She felt like she would never be able to run more than a 5k. Amy Pinkerton, a coach Rose knew from NoBo had made the switch to WalkFit, so "I knew I had to give it a try." The difference was tangible.
I have now completed 4 half marathons and I am training for number 5. The weight is still coming off , my diabetic meds have been reduced by half, my BP is closer to normal and my cholesterol is within normal limits. I love WalkFit and I am a walker!
As with these stories, the bad news comes tinged with silver. Rose's cousin Ginny passed away while Rose was walking her first half-marathon. Then, her sister-in-law Debbie died. Her mother underwent a mastectomy in March of 2013.  Her daughter will be 3 years cancer-free on April 11th.  "CANCER SUCKS and that is enough about that." When Rose races, she wear awareness ribbons for the women she loves, and she weeps to speak of them. Instead of doubling under, Rose squared her shoulders to the challenge. 
She remains keenly aware that she does not walk alone.
I could not have made it this far on my own.  Fleet Feet staff, coaches and program participants  along the way have changed my life.    Kasey Green patiently took my phone calls from OH and deferred registrations for me until I was home.  Kenna B, Lynn S, Susan L, Cliff, Julie B, Denise S all coached and encouraged, made me keep going and would not let me quit.  I still hear their voices in my head when my form is bad or I grumble about getting out there to walk.  I even mimic them when I am coaching!
Rose believes that everyone who walks into a training program meeting has a story. " I hope that over the coming weeks you will share yours with me."