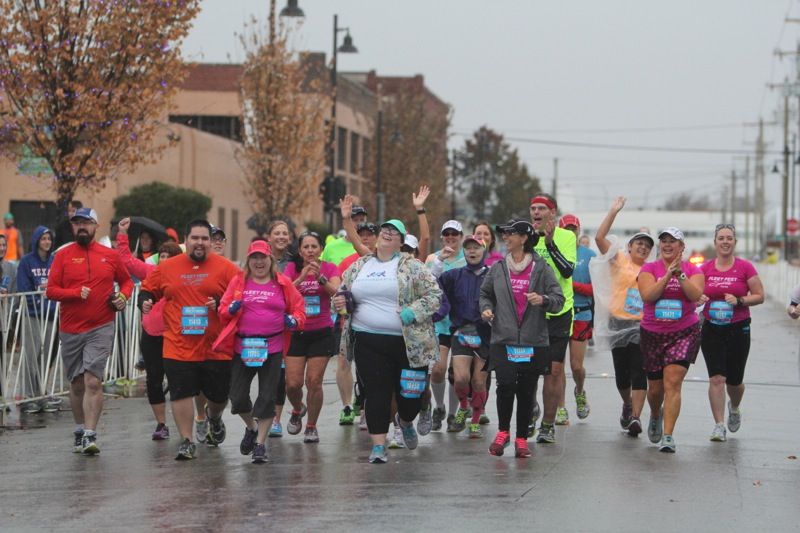 Kelley came to Fleet Feet with a friend who wanted to buy new running shoes, but she was just along for the ride. She had no intentions ever of trying something so strange. It didn't take long until Kelley had joined the running ranks.
But she did take some convincing "I was so completely intimidated by all the lean, very obviously athletic employees, and all the tight-fitting, brightly colored running clothes.  This was obviously not the place for me – a very overweight non-athlete who would do anything to blend in and go unnoticed." During the course of the conversation, the sales associate offered to help Kelley, who scoffed at the idea of being a runner.  "First off, there's no sports bra alive that could keep me from giving myself a concussion.  She showed me that there were, indeed, options, and handed me a flyer for No Boundaries."
Kelley didn't sign her name on the proverbial dotted line that day. She spent weeks poring over the website, listening to the chorus of voices most of us have in our heads. Kelley said "the voices of naysayers in the back of my head...told me I would never be able to run, that I would never be able to lose weight, that my goal of running a 5k was completely unreachable." Those voices almost won. Except Kelley is from that brand of woman who refuses to be limited, "because I can't stand to be told I can't do something, I decided to register for No Boundaries I."
Registering online is one thing.  "I was teeming with excitement in the weeks between registering and starting.  I remember the informational session I went to, getting fit for my first pair of shoes, inserts, socks – and of course, the dreaded sports bra (thanks Mallory!)" There was still that minor detail of showing up at a new place, surrounded by people she didn't know, doing something she wasn't sure she could do. "That first night, I was nervous.  I found out I was going to be running for a minute.  A whole minute.  I'd never run a minute in my life."
She would not be deterred. Kelley describes the first interval:  "I felt pretty much exactly like a rhinoceros.  My legs felt heavy, my asthmatic lungs were screaming, I thought I might die, and then the unthinkable happened.  My pants started to fall down.  I hadn't tightened them enough, and now they were going to fall down in front of all these people who didn't look like they were dying, asthmatic rhinoceroses.  It was a minute that I will hopefully never forget for the rest of my life, because eventually that minute passed and I was still alive.  That's when I knew that I could do this."
During that session of No Boundaries, the goal race was the Cinco de Mayo 5k.  She said she "was nervous, but I had done the work.  I felt ready. The most mentally challenging thing, to me, was running up Boston Avenue. I finished faster than I expected to, and I managed to run across the finish line well after my legs had decided they couldn't move anymore.  I spent the next few minutes convincing myself that I wasn't going to throw up or pass out, and then I cried. I cried because I'd done what other people told me was impossible." Kelley is currently at the halfway point of her sixth training session.
Kelley found more than running shoes and tech gear at Fleet Feet. She found courage. She silenced the naysayers. She formed a family. She says, "I keep running because of the inspiring and awesome friends I've made at Fleet Feet.  I lost my father in September 2013 and my mother in July 2014, and I don't have any other family.  My running friends came together and became my family, and I will be forever grateful for that.  Who else will run next to you when you need to pound your frustration into the pavement, refuse to let you quit, and then take you out for a beer and make you laugh?  I've made friends for life, and running has given me the self-confidence to not need to blend in anymore.
When Kelley is asked what she says to new runners, she doesn't flinch: "Congratulations – you just changed your life!"