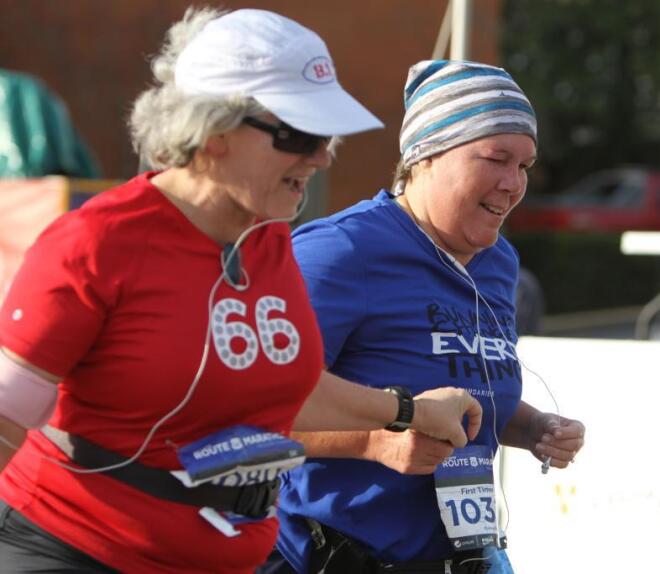 Those of us who begin our fitness journey as adults are usually spurred to start by some outward force, some identifiable impetus that indicates we can no longer get by with just getting by. Such was the case for Lisa, who woke up on a walk to the Hollywood sign.
She had traveled to California to spend time with her family, her daughter, son-in-law and granddaughter. On their tour of LA, they planned to climb to the famous Hollywood sign. On the ascent, Lisa felt something. She had trouble breathing and her chest hurt.At the time, she played it down. She remembers thinking, "Ok. There is something wrong, but we are on vacation, I'll be alright. Calm down." Though she was concerned, she kept it to herself. She says now that she would never think of keeping quiet about it these days. 
Lisa was concerned enough to see a cardiologist when she got home. Her doctor's orders were to lose weight and get active. Lisa had to ask herself how she wanted to do that. "My friend Linda and I had been surfing the internet looking for some activity," unsure how to focus their search. She said, "I had heard about Couch to 5K programs," but she thought she had it covered. "I don't need to pay for that," she remembers thinking. "I can do it on my own." Unbeknownst to her, Lisa's friend Linda had also come across Fleet Feet's No Boundaries Walking Program. And so she changed her mind about going solo. "We agreed to sign up, it's always better with a friend."
Her journey began in August 2011." It was hot, I was out of shape, overweight and I hurt." She wondered more than once what on earth she was doing, registering for an outdoor fitness program in the dead heat of Oklahoma summer. But she stuck with it. "We had great coaches encouraging us, me. I had participants encouraging me, cheering for me and we were becoming a family. Sacrificial Giving."
Lisa's goal race was the Route 66 5K that same year. "No way can I go 3.1 miles," was her mindset. She showed up anyway, disbelieving she could endure  "I hit the end of my will power at the last corner before the turn to the finish line. A dedicated coach and good friend, Xan grabbed my wrist and said, 'You can do this, You can do this, You've got this!' and I did!  What a feeling. Sacrificial Giving."
Lisa finished that race and has since registered for every training group with the exception of one. She didn't just get fit. She found a new place where she belongs.
Fleet Feet is a family. The employees know who I am. They have encouraged and taught me how to stop when in pain and how to cross a finish line. The coaches are the heartbeat of their programs. They are moms, dads, husbands, wives, employees, and friends with their own lives, but they gave to me,  time and wisdom as they pushed and nurtured me to my first of many halfs and my first full marathon.  My full marathon is the hardest thing I have ever done.  I was given so much encouragement  by what I like to call the "Elite Runners"  after completing my full.  Sacrificial Giving. 
Lisa's journey was not easy, nor was it short, and neither is it over. She has lost weight and gained friends. She said that her coaches have stopped their own races to walk with her to finish lines. "Coaches have made me believe that I can do it, Lisa said she is the recipient of a LOT of Sacrificial Giving, and "I am thankful! Thank you to all who have given!"