​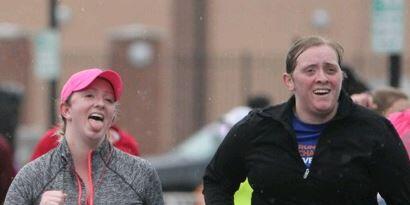 Most of Fleet Feet's training groups run through the neighborhood just west of the Kingspointe store, but we're usually too busy talking and running to wonder what affect hordes of runners and walkers can have on those who live in the houses by which we run.
Valerie Whittenburger watched us. She saw us in the rain and the heat and the cold. She saw us in the wee morning hours and well into the dark of evening. And she had a friend who talked about her training group all.the.time. Eventually, Valerie decided she had watched long enough; first, she browsed the programs online, and then she came in to find out more.
Since the goal race distance of NoBo is a 5k, Valerie carefully followed the training program, and also promised herself she would not run that distance until her goal race. But when some of the women in her group decided to run the Lederhosen Lauf, she decided to join them. The race, just under a 5k, served two purposes: one: she learned that she could, and in fact did run, the entire distance. No stopping to walk for her. But more importantly, she had empirical data that supported her plan to run the Route 66 5k. "The Lederhosen run conquered the mental battle, paving the way for the physical accomplishments."
Valerie's surprise is nearly palpable when she explains "I NEVER wanted to quit. That's a true testament...I dreaded the ending of the first session because I loved my coach and fellow runners." Like many Tulsa residents, Valerie is a transplant (from Georgia, Go Dogs!) who has limited time and few close connections. At Fleet Feet, she found more than a bunch of other runners. "When I say Fleet Feet is family, I mean it. It has improved my confidence, and for the first time, I feel like I am actually succeeding in the exercise realm."
Valerie's second NoBo session has just begun and her enthusiasm has not waned. She said her body craves the motion and the positive feelings, and that keeping up with runners half her size is a huge ego boost. She said shes's finally come to realize that her weight is just a number, and not the definition of her person. And she is like a running evangelist. Her goal race, she said, "was difficult." Her NoBo group had decided to alternate running and walking intervals, but Val wanted none of that, which meant that she was alone, which meant in turn that her mind was in  overdrive." Here's how she ended the race.
"I could see that I was in the home stretch. However, just as I turned, I could hear someone panting and saying they couldn't do it.  As I slowed my jog, I said, 'You've got this! You can do it!' Let's be honest...I was giving myself a pep talk as well." The two ran for a little bit together when the other woman started to walk again. "I told her I wasn't leaving her. I was determined that she would finish the race feeling like a success. So we screamed, we panted, we felt like we might die, but we made it. Together. I never asked her name. I may never see her again. But at that moment, we were each other's life line. It was a perfect picture of what Fleet Feet gave me several months ago...a lifeline."