The 2018 LEDERHOSEN LAUF is SOLD OUT!  No additional entries will be made available.  
Click HERE to volunteer
CLICK HERE FOR IMPORTANT RACE INSTRUCTIONS
NAME: Lederhosen Lauf at Linde Oktoberfest Tulsa
DATE/TIME: Thursday, October 18, 2018 7:15 pm
LOCATION: Tulsa Riverparks River West Festival Park
WHAT: Lederhosen Lauf 3 Mile: 7:15pm
COURSE:  Click Here
ABOUT THE EVENT: The Lederhosen Lauf is back! What better way to kick off the festivities at OKTOBERFEST than a 3 Mile race? Every finisher will receive a 16oz. KleinKrug, a drink token that will fill the KleinKrug, Free entry into Oktoberfest for October 18, and a Lederhosen Lauf t-shirt. A $25 OKTOBERFEST VALUE!    NEW FOR THIS YEAR - FINISHER MEDAL!!!  
If you complete the Fall Festival Series (Toga Run + Lederhosen Lauf) your medals from each event will link together as shown below.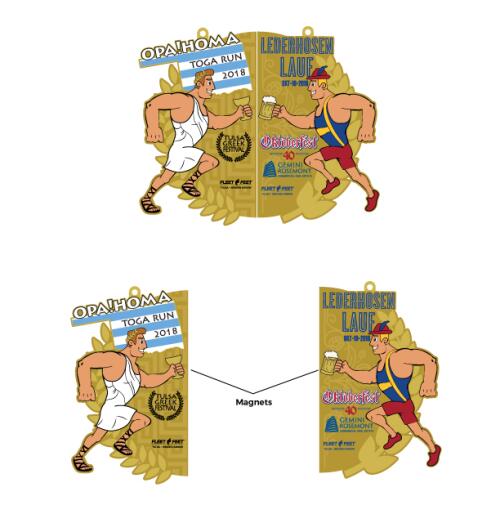 For More Information on the Linde Oktoberfest please Click Here
Parking will be available near the skate park just south of 23rd Street on the west side of the Arkansas River.
PARKING MAP: CLICK HERE
MUST BE 21 AND OVER TO CONSUME ALCOHOL.
MUST BRING ID.
HOW TO REGISTER: Click Here to Register
Online registration prices:
3 Mile 13 & Over:
09/18/18 through race day $40
3 Mile 12 & Under:
09/18/18 through race day $25