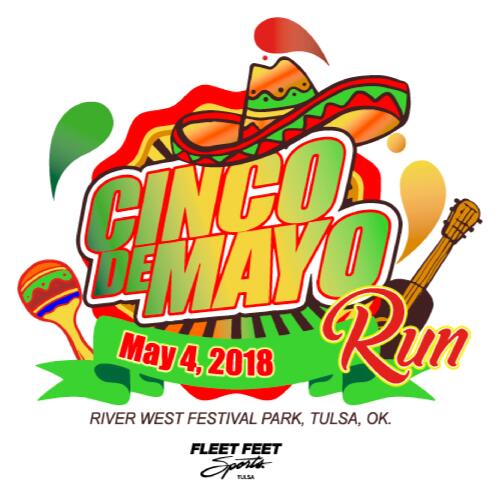 CLICK HERE TO REGISTER
Participant Race Instructions:  RACE INSTRUCTIONS
NOTE:  IN-STORE PACKET PICKUP WILL CLOSE AT 2 PM ON FRIDAY, MAY 4, 2018.  PACKET PICKUP AT THE RACE WILL OPEN AT 5:30 PM.  PLEASE NOTE THAT IF YOU DO NOT PICKUP YOUR PACKET IN ADVANCE, YOU WILL NOT BE ABLE TO TAKE ADVANTAGE OF FREE PARKING AT THE RACE (PARTICIPANTS PARK FREE BY SHOWING THEIR RACE NUMBER - SEE BELOW DETAILS AND LOCATION)
NAME: Cinco de Mayo Run
DATE/TIME: Friday, May 4, 2018 6:30 PM
LOCATION: River West Festival Park 2100 S Jackson Ave, Tulsa, OK 74107
WHAT:
Fun Run at 6:30 PM
5 KM at 7:00 PM
CERTIFIED COURSE MAP: Click HERE!
FUN RUN COURSE MAP:  Click HERE!
PARKING:  FREE parking for race participants is available at the FESTIVAL.  In order to receive free parking you must have your race number to show the parking attendant, which means you will need to pick up your packet before the race in order to have your number to take advantage of free parking.  Parking is normally $10.00.  The location of the FESTIVAL PARKING AREA can be viewed HERE  
ABOUT THE EVENT: All participants will receive race t-shirt, great finisher food from CHIMI'S, beer from Marshall's Brewing for those over 21, and live music!  Your race entry will also gain you admission on Friday to the 5 de Mayo Festival - Tulsa's largest Cinco de Mayo festival.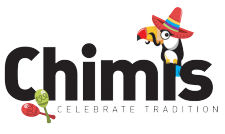 FINISHER MEDALS FOR ALL RACES! 
Schools Challenge Information can be downloaded here:  SCHOOLS CHALLENGE
Based on age graded times, the top three finishers in the below weight classes will receive an award:

Men's – Clydesdales:
170-200
201-230
231 – up 
Women's – Athena:
145-160
161-175
176 – up


Refund and Transfer Policy
All registrations are final. No refunds within 30 days of event. No make-up date in the event the race is cancelled due to weather. Entries are not transferrable. 
How to register:
Online registration prices:
| | | | | | | | |
| --- | --- | --- | --- | --- | --- | --- | --- |
| Age 13 and Over |   |   |   |   |   | Age 12 and Under |   |
| 5 KM |   |   |   |   |   | 5 KM with Shirt |   |
| $35 | Through 3/4/2018 |   |   |   |   | Through 3/4/2018 |  $20 |
| $40 | 3/5/2018 - 5/4/2018 |   |   |   |   | 3/5/2018 - 5/4/2018 |  $25 |
|   |   |   |   |   |   | 5 KM without Shirt |  $15 |
| Fun Run |   |   |   |   |   |   |   |
| $20 | Through 3/4/2018 |   |   |   |   |  Fun Run with Shirt |  $15 |
| $25 | 3/5/2018 - 5/4/2018 |   |   |   |   | Fun Run without Shirt |  FREE |