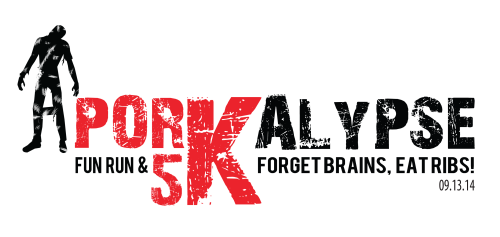 ONLINE REGISTRATION IS NOW CLOSED. 
You can register inside any Fleet Feet Store until Friday Night at 7pm or on Race day at the BOK Center starting at 6 pm
NAME: Aporkalypse 5km
DATE/TIME: Saturday, September 13th, 2014 7:30pm
LOCATION: BOK Center Downtown Tulsa
WHAT: 5km at 7:30pm
One mile Fun Run & Walk at 7:00pm
COURSE: Click here to view course
ABOUT THE EVENT: New in 2014, the Aporkalypse Fun Run & 5K adds to the fun at Rib Crib's Rock 'n Rib Festival brought to you by SMG Tulsa and the BOK Center. Runners are encouraged to dress in their best zombie gear to compete in this unique twist of the popular zombie runs. The true test in this zombie dash is the Pig Out Challenge, a series of check points throughout the race where competitors must eat ribs and drink beer (for runners who are of legal drinking age). This is an evening full of fun for all skill levels and ages. The race is an out and back race, and starts & ends at Rib Crib's Rock 'n Rib Festival where everyone can enjoy delicious barbecue from award-winning pitmasters, free live entertainment and a fireworks display to awe the masses.
For More Information on the Rock N' Rib Festival please Click Here
New for 2014 - take the ultimate PIG OUT CHALLENGE - Where you will Eat Ribs, Down A cup of beans and chug a beer during the race. Not for the weak of stomach - Must be over 21 to enter!
HOW TO REGISTER: You can register inside any Fleet Feet Store until Friday Night at 7pm or on Race day at the BOK Center starting at 6 pm
Online registration prices:
5km: $35.00
1 mile Fun Run & Walk: $20.00
Pig Out Challenge (run 5km while eating Ribs and beans and drinking a beer)- Must be over 21: $40.00
Teams of 3 or more:
5K: $30.00
Pig Out Challenge: $35.00