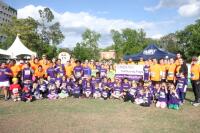 Zoomerangs is our Youth Running Program and is open for registration both in-store and online. This award winning program is for children ages 5 -12years and designed to help them stay active in a fun group environment. 
Register in-store at Fleet Feet KingsPointe, Fleet Feet Blue Dome, or online here
Zoomerangs is a 6 week program that meets on Mondays at 5:45pm from March 25 and ends at our Cinco de Mayo race on Friday May 2.
Zoomerangs participants receive a program cotton t-shirt, pizza party, prizes and more! Learn more about Zoomerangs here.