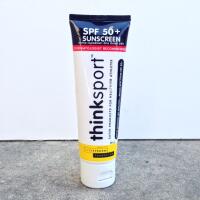 New to our selection of "essentials" is a new, high -PF sport sunscreen from Thinksport. With 20% Zinc Oxide as the active ingredient (instead of chemical UV absorbers) this sunscreen is safe and effective and since it is designed for sport use is not greasy and is water resistant for 80 minutes.
It may not be the flashiest item in your kit, but effective sunscreen might be of the most important things to have with you this season.  
Available at both Fleet Feet Sports Tulsa stores.