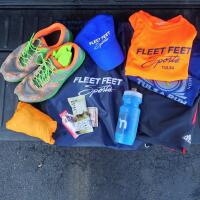 Sometimes getting a run in is easier said than done – even a 20 minute outing can be tough to fit in hectic schedules, especially later in the day when work, dinner, after-school activities and other obligations can easily fill up the schedule. One way we have found to give you the best chance of getting a workout in is to keep a 'car kit': a bag with the bare necessities to be able to get a run or walk in during a spare chunk of time (soccer practice, long lunch, escape from the in-laws on a Sunday afternoon). This kit is also a lifesaver if you drive to a run or race and forget a critical item, like your shoes!
Here is what we recommend for the kit, but it's just a starting point, customize your kit with your own essentials!
ESSENTIAL
Shoes – try to retire a pair of shoes before they're completely worn out. They don't need to be in perfect shape since you probably won't be doing any 20 milers with just this kit.
Socks – just like with the shoes, retire a decent pair of technical socks and stuff them in the shoes.
Tech Shirt – either an old shirt or a race shirt, but make sure it's technical. Ideal would be to have two, a short sleeve or tank and a long sleeve option.
Shorts – for the most versatility, one pair of shorts or tight capris. Preferable with a pocket or two for storage.
Sack Pack – to put it all in and keep it contained. Could even be worn on the run if necessary.
EXTRAS
Hat – will be appreciated on sunny, rainy or bad hair days.
Jacket – This might be hard to spare, but a lightweight jacket can greatly expand the conditions your kit can accommodate. The packable Brooks LSD Lite jacket is our first choice.
Water bottle – a bottle you can fill and leave at the car or hand hold in a pinch is a great addition.
Nutrition – An energy bar for before and a gel for during can get you more miles out of the kit.
Money – tucked away for on-the-run or toll booth emergencies.
Put together a kit for yourself and never miss a chance to work out just because you didn't have your gear!
Lance Miller