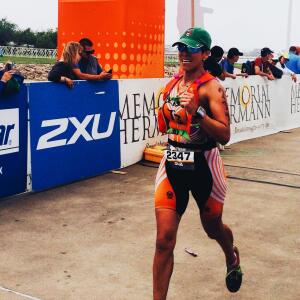 A recent addition to our hydration assortment is a completely new alternative for carrying your fluid, placing it on your chest instead of your waist, hands or back with the Nathan Firecatcher Race Vest. Like the Zeal vest that Mallory reviewed recently (click here to read the review), Nathan's race vests differ from 'packs' by distributing the load across wide, soft straps and putting storage on the front and back to balance the load.
The Firecatcher is based completely on user input – many Nathan users had been using a minimal vest (the HPL 028, a race vest with no bottles or bladder) and adding a water bottle or two to its front  pocket. Nathan saw this use and redesigned its lightest vest with two 10 ounce bottles for the front pockets included. Additionally, there is a nutrition pouch on the front for gels or chews, a zippered phone pocket and a crazy-handy pill pocket high on the front right strap to access electrolyte pills. If 20 ounces of water isn't enough it is compatible with a 1.5 liter bladder to put in the back pocket – which can otherwise be used to carry an extra layer, a PB and J or a copy of Homer's The Odyssey.
While not as minimal as just a handheld or two, the Firecatcher's brilliance is in the position and ease of access of the water bottles. Carrying your water so close to your center of gravity minimizes its motion and basically requires less work to carry the same weight. Additionally, the position of the bottles on the front makes them incredibly easy to access, something you may not consider at first but  certainly makes a difference at mile 10. Reaching around to grab (and then put back without dropping) a bottle on the back of a waist pack is no small task late in a race!
Our own Olga recently put this to the test at her most recent Half Ironman in Galveston, Texas. After one test-run Olga decided to make the Firecatcher part of her race kit for the 13.1 mile run.
After a challenging swim in choppy water and a solid but windy bike ride, Olga embarked on a half marathon already 57 miles in to the day. Despite the fatigue, Olga reports that the vest "felt very light" and stable throughout the run. Olga kept a bottle of water and nuun ready throughout the run and feels she took in more fluid than if she had relied only on aid stations since she always had it on her and the bottles were easy to reach – she recalled earlier races struggling to get bottles from her back or having to rotate her hydration belt all the way round to access water. Olga also carried electrolyte pills, gels and one non-traditional nutrition item: mashed potatoes, in a baggie kept in a front pocket. Olga earned a finish and a PR and says her steady fluid and fuel intake, aided by her Firecatcher Race Vest, was "part of the success".
Check out the Firecatcher and other essentials at both Fleet Feet Sports Tulsa stores.
Congratulations to Olga on her finish and PR!