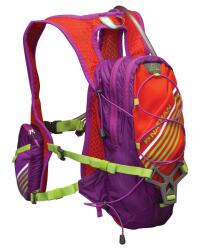 Nathan Zeal Race Vest
The new Nathan's women-specific Zeal Race Vest has a great fit. Nathan's hydration "vests" are called such because of the more even weight distribution, front to back, than a "pack" and that it fits more like a piece of apparel that just happens to hold everything you might need on a run, walk or hike. It's lightweight, conforms to a woman's figure and even comes in stylish colors. This vest is great for a runner on the go. It has enough storage for nutrition and other emergency supplies; band aids, body glide, arm warmers, spare socks. It packs a 2 liter bladder in the back and an extra water bottle in a front pocket. This allows you to have the option of carrying both water and NUUN or if you don't need both at the time, the pocket also works great for extra, quick-access storage.  I use mine for long training runs and the occasional hike. It's nice to be able to easily store snacks for my running partner as well, a 20Ib Mini Aussie mix who accompanies me on all of my training and, stubbornly, doesn't think to pack her own water and food!
I was interested to find out how it felt to wear a vest because in the past I have always carried as little with me as possible because of how bulky and weighed down I feel. I run to feel free, and my Zeal Race Vest allows me to feel that freedom for as long as possible.
Nathan Hydration vests are available in a variety of configurations and colors, in men's and women's versions, at Fleet Feet Sports Tulsa.
Come try one on today!
Mallory Sawin, Assistant Manager