We're 22 weeks out from the Williams Route 66 Marathon. If you're ready to begin training for the big race, here are a few recommendations to get you started on the right foot:
1. Plan Your Training: Sign up for the 19-week Halfer In Training (HIT) or Marathoner In Training (MIT) programs, which begin on Monday, July 9. These programs are the Official Training Program of the Williams Route 66 Marathon and will help you be as prepared as possible at the starting line on race day.
2. Plan Your Support Team: Do you have a running buddy with a similar goal? Team up and do some of your long runs together. If you're looking for training partners, research local running groups - in our training programs, we offer a variety of pace groups of all abilities - whether you're running, walking, or doing intervals. If you're balancing training and family life, work out your childcare now and maintain focus once you get started.
3. Plan Your Gear: Remember that running shoes have an average lifespan of 300 to 500 miles. To start counting those miles when you begin your training plan, why not kick off your race prep with a new pair of kicks? At Fleet Feet Sports Tulsa | Broken Arrow, we're happy to take you through our FIT Process to find a great pair of shoes that will get you through the miles of training ahead of you.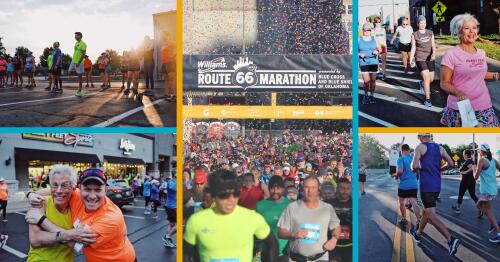 ---
Join Fleet Feet Sports Tulsa | Broken Arrow and the Route 66 Marathon as we kick off training for this legendary fall race! The First Mile is happening on Thursday, June 28 from 5:30pm - 8:00pm at Fleet Feet Broken Arrow (303 S. Main St). This family fun event includes a short kickoff training run/walk followed by food, beverages, give-aways, live music, and inflatables for kids of all ages!