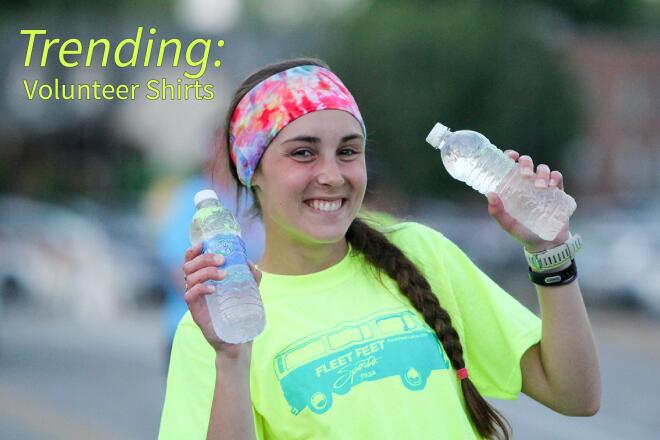 You've seen them at the start line, you've seen them at the finish line. You've seen them serving burgers and beer, you've seen them handing water mid-race. You've seen them congratulating you on your accomplishments every step of the way.
They are the hard-working volunteers who make races work, and you've seen ours sporting a sought-after t-shirt. Now it's time to earn yours.
For years we have outfitted our race day volunteers in a bright race crew t-shirt so they could be visible to participants, other volunteers and staff, as well as to traffic (since volunteers are often working near open roads). What we didn't expect to happen when we first started distributing these shirts was that they would become a badge of honor - a sign that the person wearing it did their part to make a fantastic event happen. This season we have decided to step it up and not only make our race crew shirt bright (high visibility yellow) but to emblazon them with an awesome logo of our beloved Fleet Feet VW. We're sure our volunteers will be happier than ever to sport the tee on race day and beyond.
If you want to thank all the volunteers who have helped you get to the finish line, then do so (assuming you have the breath to spare mid-race!). You can also thank them by giving back and volunteering your time to help someone else reach their goals. It's up to you if you tell everyone how much fun you had!
If a volunteer made a difference to you during a race, then consider returning the favor by volunteering for an upcoming race. We'll have a shirt for you at the race.
Sign up to Volunteer at the next Fleet Feet Sports Tulsa race and get your FREE Volunteer T-shirt here!