Travel Size
Whether you're travelling for a spring goal race or just staying active on a work trip, packing smart with some "travel size" workout essentials can make the experience that much more enjoyable.
We've picked a few of our must-have items that are compatible with tight baggage requirements but pack all the performance you expect from their full-size companions.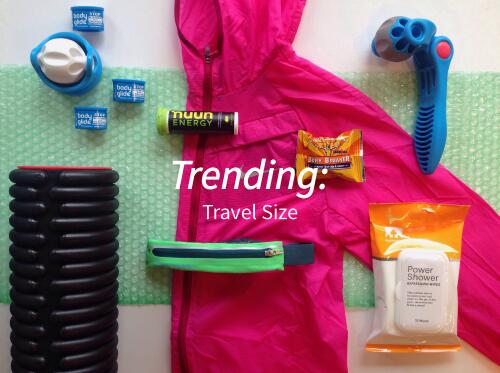 - RUNMD Wave Foam Roller: for a quick post-race massage or some hotel room core work, a foam roller is a versatile tool to pack. The RUNMD Wave is shorter and thinner but still substantial and durable enough to be your primary roller.
- Addady Junior and Uno: Either of these small, single "gear" rollers are perfect for morning foot massages, pre-run calf massages and are great for killing time on long flights or car rides.
- Body Glide Minis: You know how important Body Glide is, but leave the full size at home and pack a mini-size of the anti-chafing essential.
- Nuun Energy: Avoid the unneeded trip to the convenience store to find a "sports drink" and pack your own. We like Nuun Energy with caffeine on the road in case we're hitting the road before we have a coffee fix.
- Bonk Breaker Bite: a delicious Bonk Breaker PB and J bar in a snack size, need we say more?
- Nathan Power Shower wipes: travelling and running can sometimes mean foregoing our usual hygiene standards so pack these refreshing body wipes for a post-race clean up. The crew you drove to the race 3 hours away with will thank you.
- Nathan Mirage Pack: Don't be caught on race day or before a morning workout without a place to keep your hotel or rental car key, not to mention ID, cash and even a phone - all things even more critical to have when we're running away from home.
- Nike Impossibly Light Jacket: You probably can't bring your entire running wardrobe with you, so you better pack smart with items to fit a variety of conditions. Even in spring and summer, we never travel without a light jacket and this one packs down smaller than that stick of Body Glide you left at home