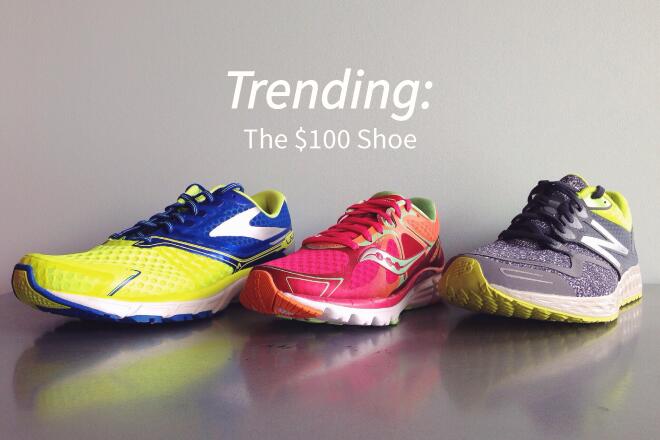 This spring's shoe lineup is all about the $100 shoe. Three of our favorite models this spring hit all the right notes for a performance-oriented shoe and will only cost you a C-Note.
While these shoes are great values for a budget, that's far from their whole story: these shoes represent the same performance level found in more expensive shoes from the same brands. The difference comes from a combination of trickle-down technology,  relatively simple construction and creative materials sourcing which allows for the terrific price point. It happens that these 3 shoes, for most athletes, will represent a "2nd shoe" for your kit as they are best suited for faster workouts, races and cross-training. For high school runners and 5K-focused runners they may work perfectly well for everyday training.
Take a look at these $100 kicks:
New Balance Fresh Foam Zante: New for this year is the second "Fresh Foam" shoe in the NB running lineup, a lighter, lower and more responsive companion to the soft and plush Boracay. The Zante has a go-fast feel with a smooth heel-toe transition, marked toe-spring and snug upper. 6.6 oz (women), 8.1 oz (men) 6mm Drop
Brooks Launch 2: This is one of the most interesting stories of a shoe update in recent memory. The original Launch was discontinued several years ago but its vocal, cult-like following started a grassroots movement to bring it back. Brooks smartly listened to this chorus and made only minor modifications to the go-fast, no-frills shoe with better upper materials while changing little about the fit and ride. 8.7oz (women), 9.9 oz (men) 10mm Drop
Saucony Kinvara 6: A perennial best-seller and survivor of the post-minimalism era, the Kinvara has been a staff and customer favorite for a low-profile running shoe that can pull double duty in the gym, at Zumba class or in boot camp. 6.7oz (women), 7.8 oz (men) 4mm Drop.
You can check out all of these shoes at both Fleet Feet Tulsa stores.