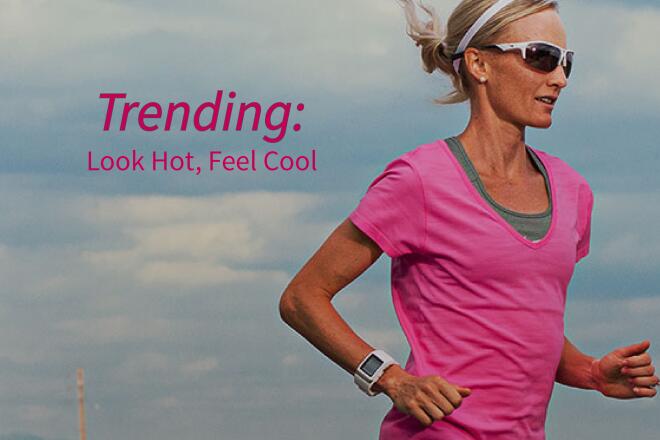 As Will Rogers famously said, "If you don't like the weather in Oklahoma, just wait five minutes," but even Oklahoma's Favorite Son would have to concede that once we hit Memorial Day, it's gonna be hot for a while. It's also a certainty that if you wait for the "good weather" to hit Oklahoma you may only have about 2 weeks of outdoor workouts before you trudge back to the treadmill. This season, gear up for the sun and scorching temps with the best warm weather apparel, and look good doing it.
Women's
Nike Breeze Top: using a trend-right burnout print, this essential summer top is as light and airy as you can get. Layer over a bright Moving Comfort Fiona sports bra. Check out the rotating selection of colors in a short sleeve and strappy tank version to keep you cool all summer.
Oiselle Long Roga Short: with a great fit and smart storage pocket, this short from the women's-exclusive brand Oiselle is a year-round winner, but it's limited stretch fabric is perfect when we know we're going to be sweating - these shorts won't droop.
Nike Run X2 S Sunglasses: protect your eyes. Your 'present self' will thank you for reducing the strain that comes from squinting. Your 'future self' will thank you for still being able to see.
UV Half Buff: stops the sweat, holds stray hair, looks great.
Men's
New Balance Ultra Short Sleeve: Guys, resist the temptation to go shirtless for your summer runs. Ultralight fabrics in this top keep the skin cooler than bare skin and UPF treatment protects the skin. Check out this top and the Nike Miler Short Sleeve for lightweight shirts with sun protection.
Brooks Essential 3.5" Split Short: Light and airy, this go-to split short has an open cut and mesh paneling to keep you as dry and cool as possible. A zippered back pocket stores the bare essentials. Similar options available in 5" and 7" versions as well if you don't want to show so much leg.
Nike Cruiser R Sunglasses: for the run, the patio or the ballpark, these retro-technical shades will be on all summer long.
Brooks Mesh Cap: Hats protect sensitive skin from the sun and stop sweat from stinging your eyes midrun - essential for summer workouts.