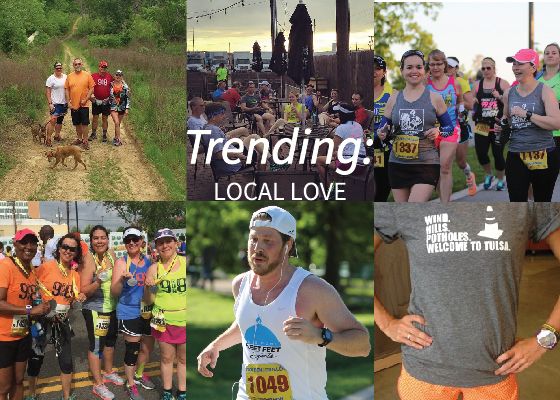 Blue Dome. Golden Driller. Turkey Mountain. Guthrie Green. The Center of the Universe.
Whether you're just passing through or Tulsa is your forever home, these words are shorthand for some of the best and weirdest parts of our city. Tulsans are passionate about and loyal to their city, and vocal about its quirks. Only we are allowed to gripe about the roads: we sure don't want any visitors taking pot shots at our potholes. Tulsa is dedicated to sharing its version of down home hospitality, and we like to take our city pride with us wherever we go on our shirts and in our hearts.
Spend twenty minutes on the running trails at the river and you'll likely spot the growing trend in apparel and accessories that reflect our hometown spirit. While there are plenty of ways for people to show their Tulsa affinity, until now there haven't been many options in technical running gear. Fleet Feet is proud to offer original, Tulsa-centric graphic athletic gear designed by our staff so we can always represent the 918 (or 9-RUN-8).
Share your T-Town pride with us by posting a photo of your Tulsa gear in Tulsa, or anywhere, and tag us on Instgram, twitter and Facebook. @fleetfeetsportstulsa #9run8