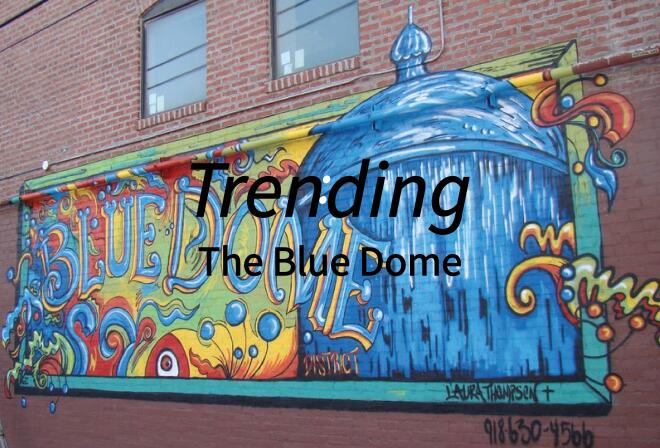 Not too long ago, downtown Tulsa was an urban dead land. Commuters spooked out of town as soon as the clock struck five, like a slew of modern day Cinderellas fleeing the work-day ball. But thanks to downtown revitalization efforts, the dance doesn't ever really end in downtown Tulsa these days. There's always something to do across the width of our city.
This is most evident in the Blue Dome district. When McNellie's Pub opened its doors just over 10 years ago, this little pocket began its renaissance. The Blue Dome district gets its name from the eponymous dome at 2nd and Elgin, which used to be a twenty four-hour fill station. A decade ago, all that stood here were barren parking lots and derelict buildings sagging to time. Today the neighborhood surrounding the distinctive Route 66 landmark is brimming with retail spaces (we're a proud resident since 2010), restaurants, offices and housing. The Blue Dome is a funky little part of Tulsa with a character all its own. That character will be on display this summer as it hosts, along with the adjacent Brady Arts District, enough festivals and activities to fill up your social calendar.
First up is the 12th annual Blue Dome Arts Festival, May 15-17th. The hub of activities spokes around the intersection at 2nd and Elgin and stretches out in every direction, including right to our front door. We'll have a booth on 2nd street leading to our cool, air-conditioned space where you can take in locally-designed logo apparel and artwork from some of our staff and coaches. Saturday, May 16th is our first "tweener" run so you can keep your fitness routine between training programs. Meet up with your crew or find new training buddies and head out for a run or walk from Blue Dome at 7am. Afterwards, take in all the day's festivities at the Blue Dome Arts Festival.
May 14th - 17th, in the heart of downtown Tulsa, The Tulsa International Mayfest will have the streets filled with fine arts, crafts, performing artists, children's hands-on art activity areas, and of course, great festival food.
Sunday, May 17th is also the 2nd annual Hop Jam Beer and Music Festival in the Brady Arts District featuring over 30 microbreweries and music all afternoon, capped off with a set from local heroes, Hanson.
Back for its 10th year and bigger than ever, the highly anticipated Tulsa Tough Bike Festival rolls through T-Town June 10-12th kicking off with the McNellies Group Blue Dome Criteriums. Fleet Feet Sports Tulsa is lucky to have a front row seat with the start and finish line right out our front door. If you catch nothing else at Tulsa Tough - make it Friday night for the elite races under the lights. Don't forget to MIND THE GAP. Stop by for special logo gear and, if you're riding or racing, all the nutrition you'll need to power thru the gran fondos.
Laugh off the calories your training didn't at the Blue Whale Comedy Festival June 18-21 with most of the venues right in the Blue Dome neighborhood. We're not going to miss headliner Natasha Leggero's set on Friday at Legends Dance Hall.