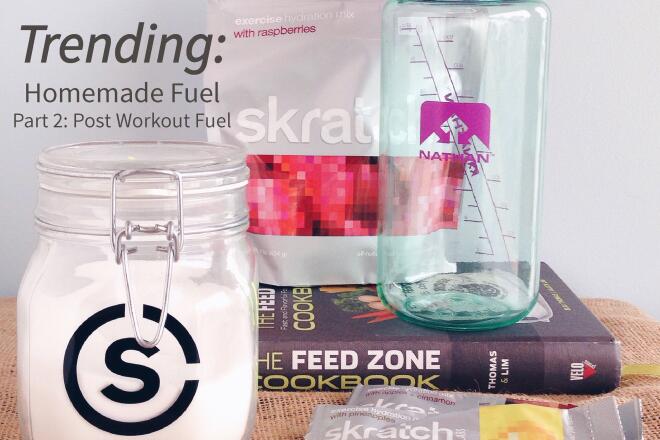 Last week, we asked our No Boundaries participants to sample some food made from recipes in The Feed Zone cookbook. This week, we tossed a few more samples out there to get a more rounded look at the book at its offerings.
The M4A marathon group finished 17 hilly miles and then tucked into Meatball Sliders with Cilantro Mint Yogurt Dressing and a tangy Bread Salad. This was a perfect post-run meal; high in carbs and quality protein, easy to eat, full of flavor but not heavy. Of course, this group noshed on these and washed them down with Mimosas, which always seem to make things taste better. To serve them, we sliced open small dinner rolls and topped them with the sauce, tomatoes and fresh greens. The bread salad is as easy as chunking up some hearty bread and tossing some balsamic vinegar and olive oil. Toss in some fresh Parmesan and you're good to go. One taste tester exclaimed, "Those meatballs rocked my face off." Translation: those were good.
If you're anything like me after longer miles, you're both too "hangry" and too tired to stand at the stove whipping up some healthful and fulling meal. You want all the food. Right. Now. What I liked about preparing these two recipes was the make-ahead simplicity. I put together the meatballs, made of turkey and Italian sausage, the night before, and placed them in the crockpot. I froze the entire pot and simply turned on the slow cooker in the morning. Over a few hours on low, the meatballs soaked up all the flavor. Imagine walking in the door after a long run or walk only to remember what a genius you are for making a great meal ahead of time
Later that same week, Fleet Feet staff tried the Ginger Honey Chicken Wraps and the Potato Onion Pizza. I had to keep in mind that many of the recipes in The Feed Zone are designed to be easily digested, and for groups of athletes with varying taste interests. They both appear to be rather bland recipes. The wraps are simple; shredded chicken mixed with sticky rice, honey and ginger rolled into a tortilla. If you're not a fan of ginger, then stay away from freshly minced or prepared ginger and use ginger powder instead. The finely mashed nature of the fresh ginger allowed it to blend into the rice and chicken, suggesting a strong ginger flavor. Definitely some sriracha or other spices would intensify and personalize the flavor. The same goes for the Potato Pizza. Sliced cook potatoes and carmelized onions on a homemade crust, drizzled with olive oil and Parmesan sounds pretty tasty, but the distinct pairing does leave itself open for optional ingredients that add so much to the taste. Consider crushed red pepper, a sprinkle of mozzarella or a heavier dose of onions.
In the days since we introduced The Feed Zone and other goodies from Skratch Labs, I've heard from other home chefs who have used the cookbook. One woman made the Red Lentil stew and reported that it was full of flavor. And the couple who tried the fillets with fresh tomato jam reported that the "jam was our jam," and will be using the condiment on grilled chicken with plans to make the Buffalo and Sweet Potato tacos.
With the generous amount of recipes available for free on food blogs today, one might wonder if there's a benefit to actually buying a cook book. When I purchase a cookbook it must meet certain criteria: the ingredients must be reasonable to find and purchase, the recipes must not require three days and a trip to a farm to mill my own wheat, and my whole family must be up for trying some new foods. It also has to contain something I haven't found anywhere else. The Feed Zone cookbook hits all of those. What I've especially liked, aside from the pages of science and the list of optional fixes, is the creative way the authors use common athlete foods like lean chicken and beef in new and interesting ways. It's not just another grilled fillet and overcooked broccoli.