Ladies, pour a cup of coffee and pull up a chair. We need to chat. If you've been training for three or more months, with only one or two sports bras, it's time to think about getting fitted for a new one. This isn't about the next new thing; this is about support. The real and true support that comes from a highly technical piece of equipment that too many of us tend to overlook. 
We get it. When you run into Fleet Feet "real quick" just to grab a new pair of shoes, you are on a mission, focused on the thousands of tasks you have in your day. We want to encourage you to take a real quick visit to our newly streamlined bra wall. Your body may have changed over the course of training. Maybe you dropped a few pounds or added some muscle. Maybe you decided that on longer runs you like a different kind of fit. With repetition comes knowledge. Couple that with the regular wear and tear on the fibers of the bra and it's most likely time to try a new one. You need a new bra if the bottom band chafes your skin or if you can longer read the words on the tags. 
And now, for the first time in a long time, we are proud to carry a line of bras that extends into ranges we haven't been able to provide.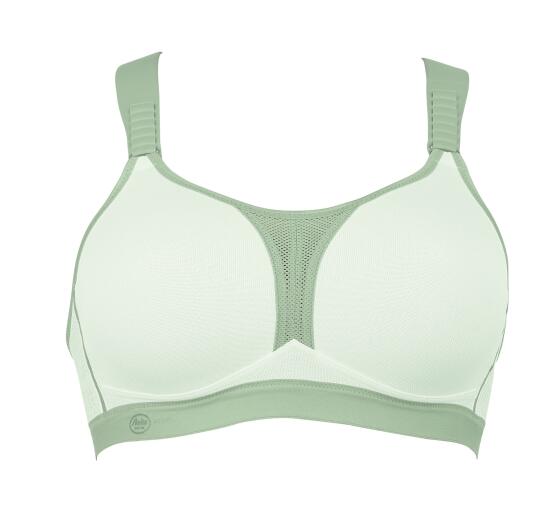 The Anita line of bras comes to us from Germany. You'll find them at our KingsPointe location in three different styles. Before we decided to bring them in, we had a variety of women test the bras for comfort, ease of wear and support. Every one of our testers loved the Anita. One woman said she was considering breaking up with her usual sports bra in favor of the Anita. Here is what they loved: 
The wide, flat band is stretchy without being scratchy. It is supple and pliant and truly soft. 
The compression of the cups. On the hanger, it's hard to tell how supportive these bras are, but once you have one on, and take it for a spin, we think you'll agree. The compression reduces bounce and makes workouts much more comfortable. 
The fabric is soft, light and breathable. This material is a revelation, and in conjunction with unique tailoring, the fabric compresses and supports the breast tissue, dries fast and packs light. 
Additionally, the cups are seamless and the straps are padded. 
Anita bras come in the following size ranges (depending on the style): 
We know adding the Anita will allow us to fit more of our guests in a greater variety of great-fitting sports bras. You can help us learn about this new bra by coming in and letting a FIT professional measure and fit you for a new sports bra. We are your sports bra headquarters, with sizes for almost everyone.