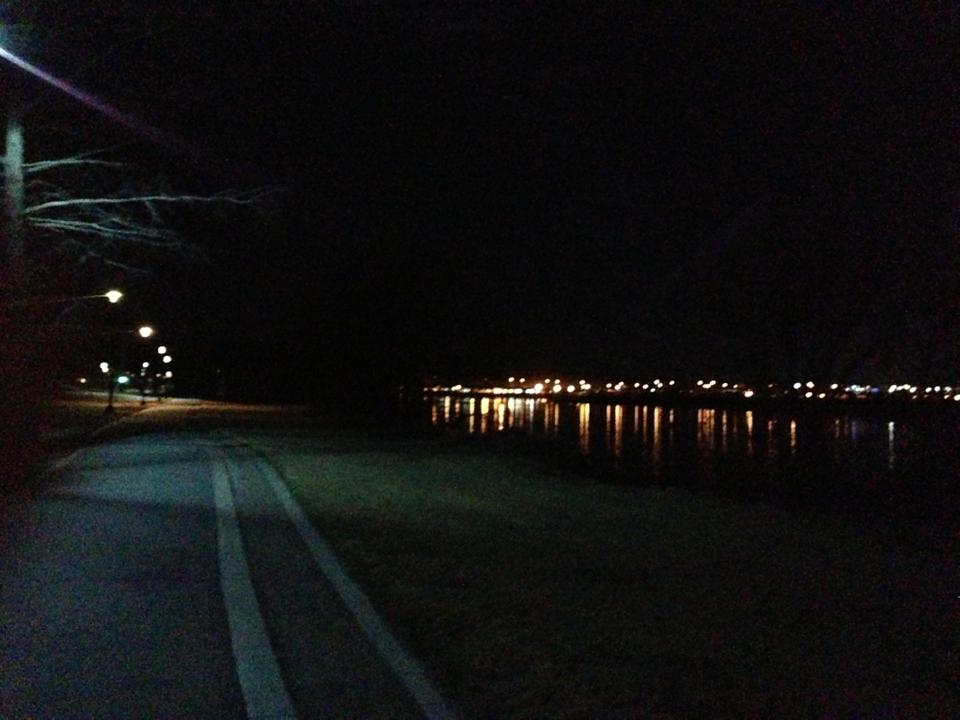 Ah, the early morning athlete; stuff of legend and mockery. She is praised for her discipline while in the next breath having her sanity questioned. He retires for bed before everyone else. She hears the blast of his alarm long before the rooster begins to consider crowing. He points his car toward the dark lanes of the track and the trail when the world slumbers. All so they can log their miles, their long long miles, before breakfast. 
Regardless of the season, It's always dark at 5 in the morning. And while we early risers can enjoy a moment of quiet peace in the still morning, training in the dark presents a few challenges. 
For one thing, early morning athletes can't see in the dark. We are not equipped with superhuman powers, although we sometimes believe otherwise. Headlamps or hand-held flashlights make for handy workout partners. Rumor has it, some people use their headlamps to navigate to the first cup of coffee, then to the car, and finally to the course. Strapping a light to one's head just makes sense to the early morning athlete. Without such illumination, potholes, tree limbs and puddles become much more nefarious than in the daylight. You do yourself a favor by lighting up. But lighting up isn't just about being able to see. 
If we can't see, then we are most likely not seen; by drivers, by fellow superheroes, by strong-willed nocturnal creatures bent on scaring the wits out of us. As the pothole is an obstacle to a runner, so a runner is an obstacle to a vehicle. Do we feel dorky adorning ourselves in luminescence like some kind of moving Christmas tree? Absolutely. But we also like to return from our workouts intact and alive. And so, a blinky light of lower intensity makes our presence known to others. The early rising athlete uses blinking lights in strategic locations as a signal to others: I am here. Fleet Feet Sports Tulsa & Broken has fielded several calls from residents who are genuinely concerned about the safety of our groups. When we run in the early morning hours or in the dusk of the day, we can be overlooked by distracted motorists contending with the rising or setting sun. You do others a favor by lighting up. 
As much as we hate to admit it, we are not invincible, and more unsavory elements do roam the city. Coaches of young men like to say nothing good happens between 2 and 5 am, and they're not entirely wrong. Being well lit isn't simply a signal of our presence. It marks out our humanity, our existence in the world as just a person, doing a workout, at a ridiculous time of day. It is our own kind of warning: I am here, and I matter to someone, and I don't want any trouble. For this reason, many runners and walkers carry pepper spray. It's not fun to think about, but a ten dollar investment can vastly improve one's peace of mind. You do your loved ones a favor by lighting up.