Last weekend, along with a large contingent of Fleet Feet SportsTulsa runners, I traveled to Olathe, Kansas to run the Garmin Marathon. Dorothy and Toto and the Tin Man lined up at the starting line along with the Cowardly Lion and more Wicked Witches of the West than I could count.
The Garmin Half Marathon and Marathon is very much a community event, and running the course reminded me of the races hosted by Fleet Feet. Volunteers wore khaki caps, just like our team wears green race tees. Streets were cordoned off and intersections patrolled by families or colleagues, just like we do in Tulsa. Clutches of spectators, clearly looking for their running or walking loved ones, cheered us on we sloshed our way through a sloppy, rain-soaked course.
If my shoes felt like they weighed a hundred pounds a piece, and if my hair stuck to my forehead in a matted mess, at least I was out doing something I loved. Then, around mile 21, I intentionally noticed the tent of volunteers handing out packets of gel, cups of water, and smiles.
It occurred to me that I had paid to participate in this craziness, and that these volunteers, as far as I knew, had nothing invested personally in this race. Yet, there they were, still standing in a steady pour, supporting virtual strangers. I didn't know these people, and they didn't know me. Conditions were less than optimal, and in a very real and tangible way, I needed them.
I needed the young family, a dad with his two tow-headed babies, to point me in the right direction. I needed the group of friends to laugh at my stupid joke as they filled up my water bottle. I needed the two pretzels the nice lady handed me. I needed the woman dressed as a flying monkey to holler at me "Nice to see you again!" as I ran by her for a second time. I understood she probably didn't really recognize me from the first time I had seen her on the out-and-back route, but I didn't care. I was willing to believe she was watching for me, so she could remind me of the true depth of the massive puddle, and send me on my merry way. I needed the finish line announcer to shout out my name and put a giant, goofy smile on my face. I needed the patient woman in the food tent to make culinary decisions for me as my brain to mouth function was impaired. I needed all of those volunteers.
Putting on a race is a big deal. It's not just a matter of throwing up some cones and sending a bunch of yahoos on their way. It starts months before and keeps going long after the very last participant has crossed the finish line. From stocking water stops to manning them, from street safety to packet stuffing, volunteers are the backbone of any race, no matter how big or strong.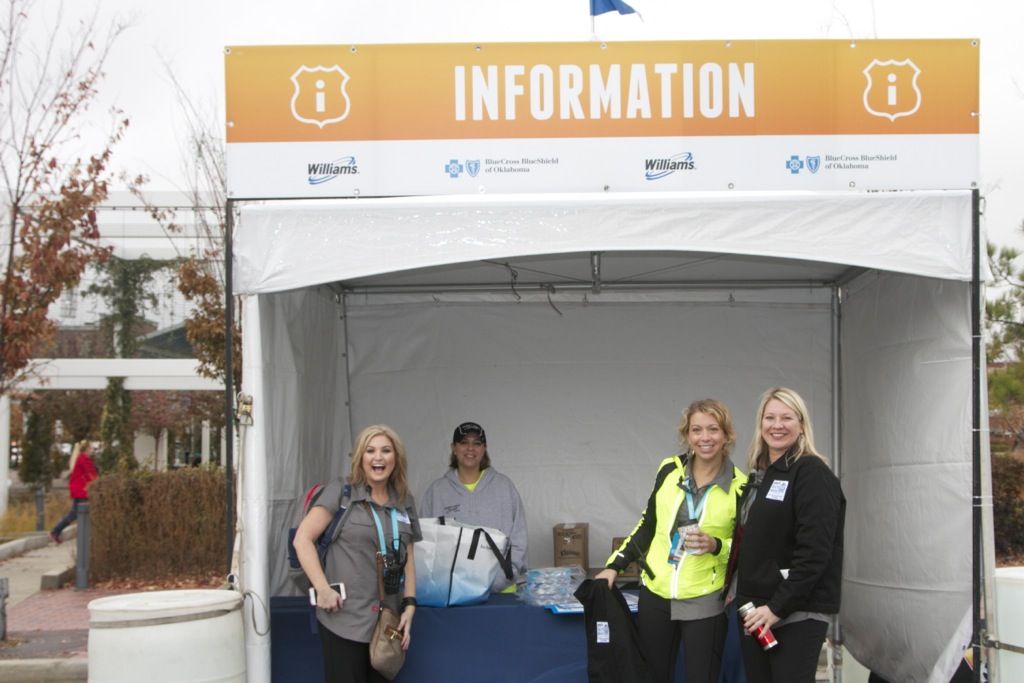 Many of you will be headed to Oklahoma City or other parts this weekend for races. As you compete, keep your eye on those folks. If you don't happen to be in any races, consider volunteering for the Inaugural Golden Driller Marathon and Cinco De Mayo 5K & Fun Run. Your help is needed to help someone like me get her self across the finish line.