She loves chocolate from Belgium and those princess cut diamonds. She may even like those footie jammies everyone's talking about. After so many Mother's Day gifts, it's easy to run out of ideas and come smack up against the same old tired cliches. 
We have taken the guess work out of making Mom happy this Mother's Day by curating three grab-and-go outfits. Our staff is ready to help find the right sizes, colors and vibe for the women who does so much. These outfits work hard, but not as hard as our moms. 
The first ensemble comes from Katie K, one of our newest lines. Katie K has vivid colors, elegant details and ease of wear. Here, we've paired the comfort and stretch of the higher waisted capri with the flair of a burnout tank. Topped with a soft hoodie and some new sunnies and Mom is ready to go from the soccer sidelines to casual brunch. We suggest Oofos sandals and Nike shades to Mom is covered in head to toe comfort. 
Next, we've put together a great kit for the mom who is always on the go. This mom hauls the kids to school, then squeezes in a few miles. She needs active wear that will go the distance in her workouts; she needs them to provide durability and comfort and she wants them to look great.This soft as cotton tank skims the hips and complements the newer, longer length shorts Brooks Running has begun to offer. Shade her eyes and share her Fleet Feet love with a logo'ed cap. Send her on her plush way with socks and the springy give of the Glycerin will keep her going for miles. If she's supported by the Brooks shaping bra in a coordinating color, she'll be sure to get all her errands done before the school bell rings.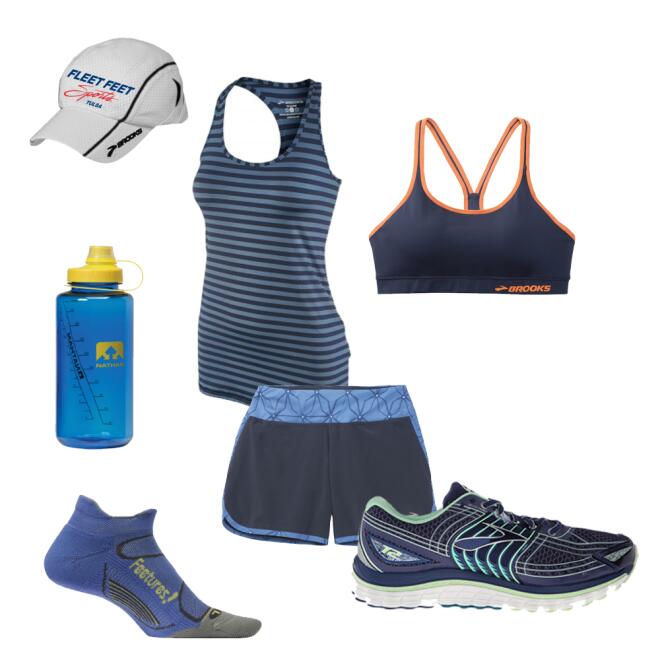 Finally, for the mom who swaggers up to the starting line, we've pulled together a perfectly fast and flashy outfit. Give her the Nike sport bra in orange, topped with the cool and wicking orange tank and cute, streamlined dotted run shorts. She'll need yurbuds, a water bottle and a Flipbelt, too.