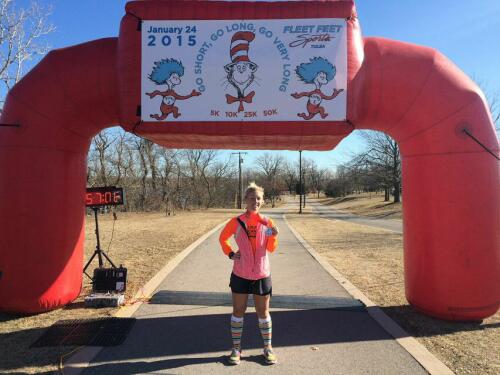 As the old saying goes, we don't know what we've got until it's gone. 
Though Jennie had been an athlete for most of her life, her first years out of college left little time for fitness. But in 2012, Jennie picked up running to stay in shape. She said, "I had never really run before and thought would be something I could get into and enjoy." And she was right. By the turn of the new year, she had resolved to run a race every month, and cap it off with a marathon the following year. She chose Walt Disney World 2014 as her big race, "If I was going to be miserable, it was going to be at the happiest place on Earth!"
Last fall, as her Fleet Feet Marathon group (M4Awesome) was tapering, Jennie found herself on a forced hiatus from running. She made countless trips to the emergency room and to Urgent Care. She was initially diagnosed with pleurisy and pneumonia, but she continued to get well. Despite foregoing running, and obeying all the doctor's orders, she couldn't seem to heal. About ten days before her training group would line up at the start of the Route 66 Marathon, Jennie made another trip to the hospital. This time, they finally found the the cause: Jennie had multiple blood clots on her lungs. She was admitted to the ICU and spent five days there.
That day in the ER, the doctor came in and she said "You should be dead right now," and that just floored me.  I still get goosebumps thinking about it.  The doctor followed that by saying because I was so in shape and my heart and lungs were so strong from running, that's why I'm still around.  So, in a nutshell, running literally saved my life. 
Every runner who has endured an injury knows the impatience and anxiety attendant with those issues. All we want is to lace up the shoes and get moving. Jennie's experience reflected that. "Those weeks that I had off were the most awful of my life.  I wanted to run so badly, but knew I couldn't because I needed to recover." And like most injured or ill runners, Jennie was "terrified" by the idea of having running cut from her life. "I had come to love something so much, and there was a chance that I'd never be able to do it again."  
Then, the day she had been awaiting finally arrived; her doctor cleared her to start running again. "I called up my coach, and he joined me on that first run.  It started off as the most terrifying thing I'd ever done, going at no more than a shuffle, waiting for the pain.  That feeling quickly dissipated as I picked up speed, faster and faster.  I felt amazing, and the feeling was exhilarating.  I knew then and there that running wasn't over for me, and I went home and picked out my 'comeback' race, the Go Short Go Long Go Very Long 50K."  Jennie ran that day with many of her M4A buddies and crossed the finish line exhausted and happy. 
Jennie said she'll keep running because it's part of her life.
I run now because I honestly feel like it's just as essential to my life as breathing. Quite ironic considering the past couple of months. Running is so many things for me. For obvious reasons it's good for my body and health, but it's so much more than that. Running has become my therapy and my sanity at times. It has created my social circles and given me friends in Tulsa. It has also helped me figure out who I am and who I want to be. It's taught me structure, discipline, defeat and triumph.  It's helped me create my identity, and now, I can't picture myself not running. 
 Joining a training group has been vital to Jennie's running joy. She moved to Tulsa in 2013, a perfect stranger in a new town, and her first eight months here were some her loneliest days. "My first friends in Tulsa after those first months were members of M4A." In fact, Jennie registered for training not to train, but to "meet people and hopefully form some new friendships." She described the group she runs with in glowing terms (ed. note, as a member of this group, I can attest to its awesomeness). "We were all so in sync on our training runs, and every[one] was just absolutely genuine...they were so kind to me and accepted me into their group." When Jennie hit her lung clot road bump, M4A was there, constantly checking on her health, reaching out with encouragement in surprising and thoughtful ways. "I ow much of my recovery and bounce back into action to their encouragement and faith in me." One member of her group old her that once, he experienced a bad case of the "I don't want tos" but he asked himself "WWJD? What Would Jennie Do," and he went for his run. Jennie said, "That's just the kind of people these are.FleetFeet has been one of the best things to ever happen to me."  
*After this post was written, Jennie discovered that she had been selected to run the New York City Marathon 2015 for the National Blood Clot Alliance. She hopes to "show that survivors can do anything...and I want to raise awareness about this silent killer."  
---
This blog post first appeared on our website as part of our "Sole Stories" blog post series in March 2015.
To learn more about the training groups we have at Fleet Feet Sports Tulsa | Broken Arrow, click HERE.