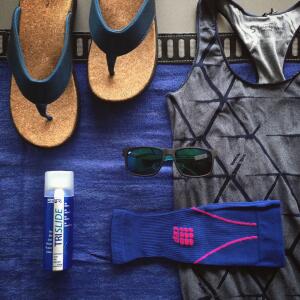 As the mercury begins to climb and our city blinks into the bright of late spring, we know that summer is peeking out from just around the corner. Walkers and runners have put away their thermal tights and gloves. We long ago shed the long sleeved shirts. For a few brief days, we appreciate our abbreviated spring as we brace for the heat we know is coming. 
Prepare yourself for summer training by thinking ahead, reassessing your habits, and practicing safe fitness. Here are our tips for staying safe and healthy without surrendering your fitness goals.
Apply sunscreen::Sunshine on my shoulders makes me happy," goes the old song, but it also can burn us and destroy vital skin cells. With higher heats, we tend to reveal more skin. Keep that skin safe and younger looking by applying sunscreen every day, before every run. Use a high SPF and apply liberally before going outside. Reapply if you are outside more than 2 hours, especially if you are sweating. 
Choose the right gear: Cotton may be the fabric of our lives, but it's also going to chafe you from here to Sunday. Don't be that guy. Treat yourself to tech gear that wicks and cools. 
Slather on the sauce: In addition to sunscreen, chances for skin irritation are high in the summer. Use lubricant to reduce friction. 
Wear a hat: If you can't stand the heat, use a visor. Hats both protect the delicate skin on our heads and shield our eyes. They also prevent sweat from running into our faces. 
Aside from these simple tips, athletes can alter their habits to handle the heat.
 If you can, run or walk in the early morning, or in the later evening.
Carry water with you, even if you think the trails have enough fountains. 
Hydrate. Hydrate. Hydrate. We can't stress this enough. Your body needs water to function. A hydrated body pumps blood more effectively and its muscle work more efficiently. If you know you have a workout on the agenda, drink up. Don't just rely on water. Try different electrolyte replacement drinks as well. It's incredibly difficult to drink too much water in the summer. By the time we experience thirst, we are dehydrated. Prevent cramping, dizziness and possible heat exhaustion just by drinking. 
Tie a bandanna filled with ice around your neck. As the ice melts, your temperature will remain manageable. 
Have cold water in your car as soon as your workout is over. 
Freeze a half-filled water bottle, then fill it up with water to carry on your workout. It will melt as you go, and stay cooler longer. 
If you find you're not sweating, feel dizzy or lightheaded, find shade and call for help immediately. The Oklahoma heat is serious business, and we really like you, so we want you to stick around. Get help as soon as you think you need it, and trust your exercise buddies to assist you. 
What's your go-to summer training tip?