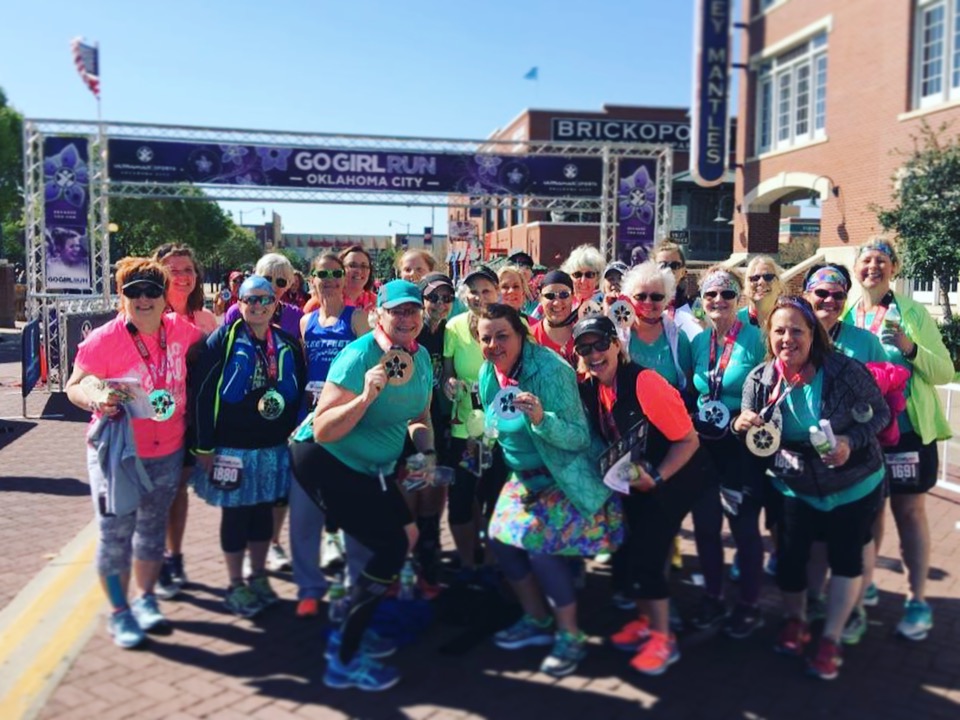 In the book Marathoning for Mortals he co-authored with Coach Jenny Hadfield, John "The Penguin" Bingham gives some careful advice on how to pack for a race away from home. His finely tuned packing system included filling in large garbage bag with every item he ever purchased for running. Several pairs of shoes, shorts and socks, every tech tee he ever received, tech undies, sunglasses, headbands, hats, belts, vests. Everything. 
While his method certainly ensures you won't forget anything vital, we think that with some careful planning and editing you'll be able to get to the starting line, totally prepared, without renting a UHaul. 
Consider the Weather (and then doubt everything)
Meteorologists can only do so much predicting, and they certainly never promise us ideal race day conditions. The day before my first half marathon was such a perfect spring day, it could have been a promotional ploy to get more tourism in Oklahoma. Race day, though, dawned like some kind of apocalyptic nightmare with thunder, lightning, hail, sheets of rain and plummeting temperatures. Suffice it to say, I was not prepared for that kind of nonsense. A good rule of thumb is to pack a cold weather kit and a warm weather kit, and expect to layer. Many runners abide by the 20 degree rule, wherein they dress for weather that is 20 degrees warmer than was is predicted. They may start the race a little chilly, but they also plan to discard inexpensive gloves, hats and jackets. 
Consider Your Training
Race day is not the day to try that cute new bra you bought at the race expo. It is not the day to test drive some cool new shoe technology, and it certainly is not the day to borrow some ratty old gym shorts. You've trained for months, ergo you should know which pieces of your apparel work well and which ones leave you raw. Vanity is a cruel mistress, but do not wear the cute shorts if you know the cute shorts give you a major case of chub rub. Do not wear the singlet that makes your biceps look super cut if you know that it will burn your nipples with the fire of a thousand suns. And by all means, do not forget the first rule of racing: do not forget the Body Glide. 
Consider Your Tummy
Just as we aren't going to wear that awesome new outfit on race day, neither are we going to sample all the cool new fuel products we picked up at the expo. Do not count on the kind expo organizers to have the gluten-free, vegan, locally-sourced fuel bar that is the only thing you can possibly stand to ingest during a run. Do not count on aid stations on the course to be stocked with the promised gels and fluids. Things happen. Races run out of goodies. Take what you know works and take more than enough for the race at hand. Use a belt or vest to carry one serving for every 40 minutes of racing. Consider, too, carrying your own fluid; in this way you reduce waste and you can be sure you're getting exactly what you need. Plus, you won't need to waste time at water stops trying to drink from soggy cups. 
Consider Your Tech
Many of us would never consider running or walking a race "naked." That is to say, without our GPS watches. If you plan to use a Garmin or other GPS-enabled device, then of course don't forget the charging cables. Consider, too, if you plan to use headphones. You'll again want to use products you have run or walked with before.  It's a good idea to get these items laced up and and secured before the gun goes off. 
Consider Us
You've spent a lot of time with us this training session and we're excited to see how you do on your goal race. Consider taking a little piece of Fleet Feet Sports Tulsa & Broken Arrow with you to show your 918 pride and connect with other Tulsans while on the road. Each of our area locations is stocked with Tulsa-specific logo gear that you can wear before, during or after your race. Don't forget to send us a photo of you in your gear at your goal. 
Good Luck!