A few months back I was invited to Shoe School at the New Balance Shoe Plant in Skowhegan, Maine. To say I was excited for the invitation would be an understatement! I knew I would get to build a pair of shoes but beyond that, I knew nothing about what was in store for me or the other Fleet Feet Store owners and staff who attended this special class.
First of all, this plant is in a beautiful, picturesque town in Maine with a population of less than 10,000 and the plant is housed in an old historic building. New Balance is a big deal in this small town since the plant employs almost 400 people. That morning, I was assigned to the Silver Value Line and handed my safety glasses and earplugs and was told that everyone would assist me along the way. To know they were entrusting me to work their line and do my best felt kind of like stepping in as quarterback and not knowing any of the plays. My nervousness disappeared quickly as I started to work with Josh on his station, where he was using a big machine that punched leather into the different sized pieces needed for the shoes' uppers. He was calm and nurturing as he showed me how to use the powerful machine to punch out the leather in the good spots. I then moved on to another station where Angel showed me how to lay out the pieces for the fancy stitching machine that automatically stitched about 100 NB logos all at once. It's worth mentioning that I was allowed to place the "N" on several uppers that day (not just my pair) so this definitely created a euphoric feeling knowing that I was truly part of their team that day.
The most nerve wracking stations to me were the sewing stations where I had to learn how to use the foot pedals to stitch the foxing and complete the construction of the uppers for the shoes. I am no seamstress (sorry mom) so my teacher that day did an amazing job of making me feel like I could stitch anything. I continued on down the Silver Value Line where they would work on one shoe to show me what to do and then I would actually complete the task on the other shoe. Obviously there were some dangerous steps along the way with big machines that could punch holes and mold the upper, as well as heat seal the upper with the midsole. And all along the way, every team member was focused on safety and an attention to detail. I was amazed at how quickly the team members could fix a machine and get it back up and running if anything happened. This solution-based team approach to any issues on their line was impressive and was something I wanted to bring back to our team in Tulsa.
At the end of our time on the line that day, our shoes were graded by the supervisors. We all sat around the conference room table as they inspected our shoes and then a grade was announced. I was extremely proud that my shoes were given a grade of "B". The entire experience will definitely be on my "most memorable" list! And even though the shoes I made are my husband's size, they are going in a special case because how many people can say they built a pair of shoes?
Special thanks to Dave Shelbourne at New Balance, Raye Wentworth (Plant Manager), and all the wonderful employees on the Silver Value Line that day! You took great care to show me what it means to build something and be proud of it. I will never look at another pair of running shoes the same way.
-Lori Dreiling (Co-owner of Fleet Feet Sports Tulsa/Broken Arrow)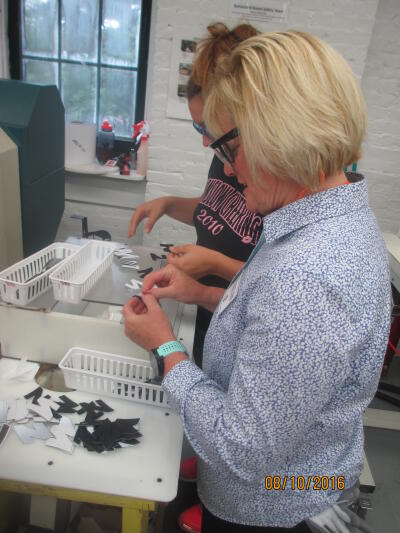 Preparing the New Balance logos to be attached to the shoes.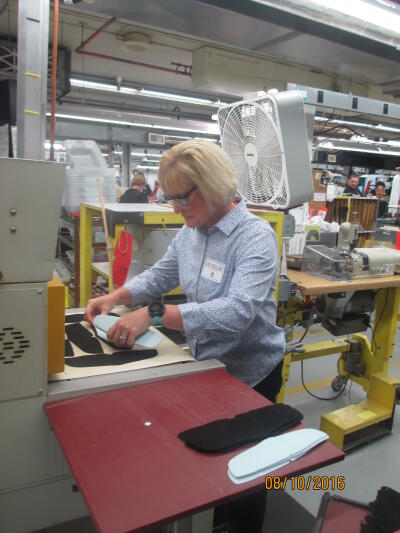 Preparing the leather to be cut for the upper of the shoes.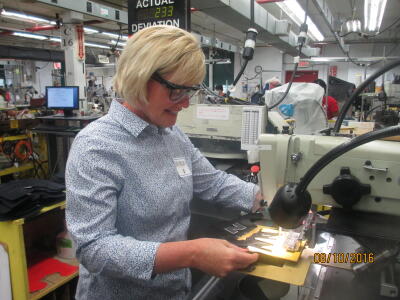 Attaching the New Balance logos to the shoes.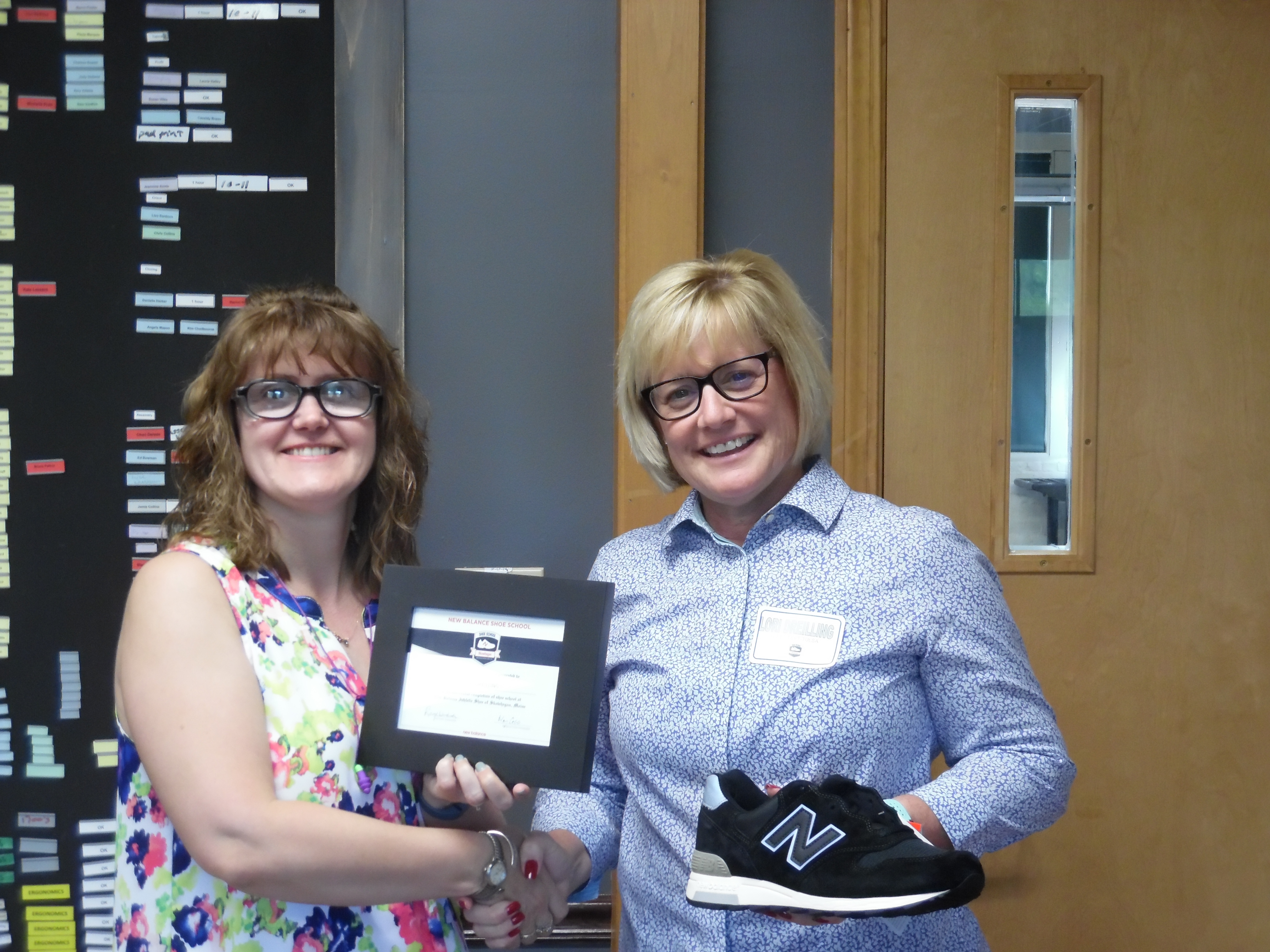 The finished product!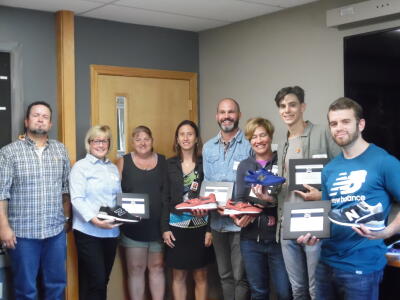 Our class of New Balance Shoe School graduates!