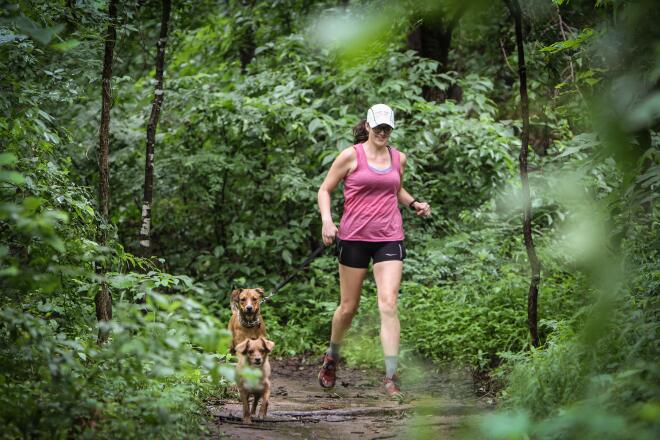 People love their pets. Fluffy and Fido are so important to our well-being that Americans spent 56 billion dollars on their dogs in 2013. As that number continues to climb, dogs are welcome at many restaurants, hotels and other venues. It's no surprise that outdoor athletes want to share their adventures with Fido. In fact, many people adopt dogs specifically looking for a running or walking partner. And while the scene we might imagine is idyllic, logging miles in beautiful terrain with our best friends, taking precautions and using common sense can make those outings more fun. 
If you want to join the ranks and run or walk with your furry friend, begin at the beginning. 
Some dog breeds aren't really built for long distance running. Consider the type of dog you have or plan to adopt. Make sure he is built for it. Small dogs or dogs with short legs may not be able to keep up with your pace or distance. Neither will the dog fare well if she is out of shape or overweight. Start out with small excursions of low intensity. Use this time to both assess your dog's fitness level and to train her to keep moving. As you progress, a slight tug at the leash will teach your dog that this is not playtime; save those outings for other times. This is also the time to start training your dog for your distances. Just as new runners or walkers don't begin by running marathons, neither should Fifi. Start with short run-walk intervals, or with faster walking-slower walking intervals. Train her just as you trained yourself. 
As we move into summer, we need to be mindful of how the climate affects our pups. If you're having a hard time managing the heat, imagine how your dog, in his fur coat, feels. Make sure your dog has access to extra water and that you be mindful of the signs of fatigue. These include: 
flattened ears
tail down
heavy panting
hind legs dragging
I'm pet ambivalent, but I did start running by running with The Dog. On one particularly hot summer day, he flat out refused to take another step. Rather, he plopped himself down in a muddy puddle and gave me the stink eye. The Dog was pooped, and he remained pooped for the remainder of the day. When Buster shows these signs, make water available and allow him a rest day. Additionally, in the summer, remember that our pets are running shoeless. That blacktop gets pretty hot. Consider allowing him to run in the grass adjacent with you. 
Because I'm animal ambivalent, I don't always (ever) appreciate it when dogs are off their leashes. Dog owners are responsible for their dogs, and this includes on the trail. Your love of Rusty may know no bounds, but some people don't like animals, and some are downright afraid of them. When using common areas, always keep your pets leashed. Always. Even if your dog is mild mannered, others on the trail may not be. 
Speaking of common courtesy, that business your dog does on the trail isn't going to pick itself up. Always carry a bag for mess, and use the bag. In the sad instance that a bag is not available, do your best to get the mess out of the path. 
Stay safe and smart. Consider using a Nathan Mirage pack or something similar to keep your hands free and to stow treats, mess bags, and keys. Put a strobe light on the leash so your pup can be seen in all directions. Outfit you and Fluffy with Buffs to protect and repel sweat. Grab an Epic bar or two to enjoy after your workout. 
Running with Spot can be rewarding for both you and him. Get started by bringing him to our fun run this Friday.