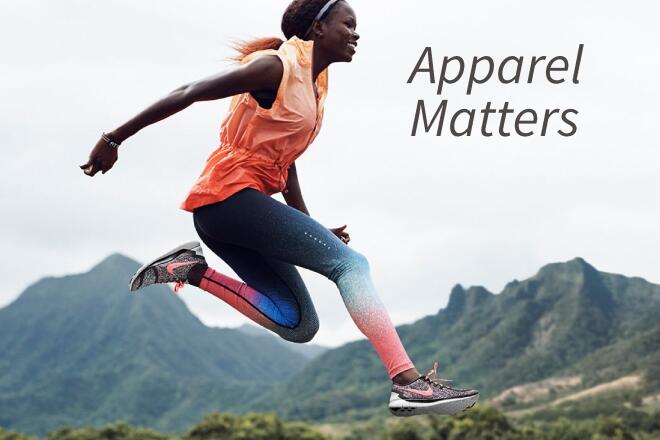 Purity Cherotich Kirui shown above 

wearing a key look from Nike's summer collection.
Getting outfitted in a good pair of trainers may seem like the first and only step in embarking on a fitness journey. That's true, to a point. Anyone can bust out a mile or two in that ratty old t-shirt from college and the shorts with the worn out elastic waistband. But if you're getting serious about walking your first 5k or running your tenth Ultra, then it's time to consider apparel that will not only bring your fashion one step forward, but provide miles of truly technical assistance. 
Investing in the right kinds of clothes is as important as the investment we make in our shoes. Since walking and running are full-body experiences, we need to consider the whole body's comfort and needs, from head to toe. 
People of a certain generation will remember being told that cotton was always the best fabric for athletes. Cotton is soft, and light and relatively inexpensive. Cotton is also rotten for sports. While it does feel great against the skin, it retains moisture and dries slowly. Technical tops, on the other hand, wick sweat and moisture away from the body and dry quickly, allowing the body better temperature control. Wicking tops keep us cool in the summer and dry in the winter, allowing us to run and walk in all four seasons. Tech tees are easy to find, and are available in every incarnation imaginable, so it's possible to choose shirts that suit individual style and fit. 
You can't go running in just a top, though, and the same Cotton Is Rotten rule applies here, too. Cotton shorts are simply not going to provide the flexibility or construction needed for the movements of walking and running. Both men and women have an array of bottoms made from synthetic fibers designed to move and stretch, while also pulling away that dreaded moisture. Men can choose from a variety of lengths and features to make fitness extra comfy. Women get the added option of skorts and skirts. Capris and tights also make great choices, and can be great pieces when the weather can't decide what season it is. 
If you've been to Fleet Feet Sports Tulsa, you know that we address socks as much as we talk about shoes. We are proud to be raising up a new generation of sock snobs. Throwing down a hundred bucks for shoes only to step into them wearing cotton socks is not going to provide the optimum experience. Cotton socks can lead to blisters, hot spots and other icky, painful issues. We are convinced that high-quality synthetic socks are the best. Again, the options are seemingly endless. Socks in every color and yarn weight and height. Socks for long runs and socks for short runs. Socks for winter and socks for summer. A synthetic fiber will again provide that wicking we so desperately crave, and keep the foot cool and comfy no matter the weather. Look for features like a deep heel pocket, a seamless toe, and a high needle count. 
Which brings us to our underthings. Experience tells us that any apparel that comes in direct contact with skin during sports must fit well, be comfortable, and perform. For women this means getting fitted by a professional for a proper sports bra. It only takes one wicked chaffing from an ill-fitting bra to learn this lesson; or you can take it from us. A bra that fits and suits individual needs is as important as your shoes. It may not give you that Jane Mansfield silhouette but it will stop the bounce and let you log those miles pain-free. For men, this means considering your shorts. While many athletic bottoms are constructed with liners, these don't address specific needs. Underwear like Saxx are built with a "comfort pouch" to reduce chafe and to provide support, and a fly front for convenience. Word on the street is that guys are not saving their Saxx for running, but find them comfortable enough for every day use. 
As with most things, the adage "you get what you pay for" rings true when it comes to tech gear. While it's possible to find a wicking shirt on the cheap don't be afraid to build your running wardrobe with higher quality items. Apparel that is specific for running and walking are designed and made for those activities. They will include flat seams to prevent chafe and pockets that are easily accessed during motion. 
Higher quality items will be more durable, as well, and can require a little extra attention in the laundry. We suggest washing with a mild detergent in cool water and air drying apparel and bras. Socks and underwear can be machine dried, but stay away from any softeners that will clog up all those fancy wicking fibers. 
Unless you run naked (we don't want to know) then your running apparel matters.