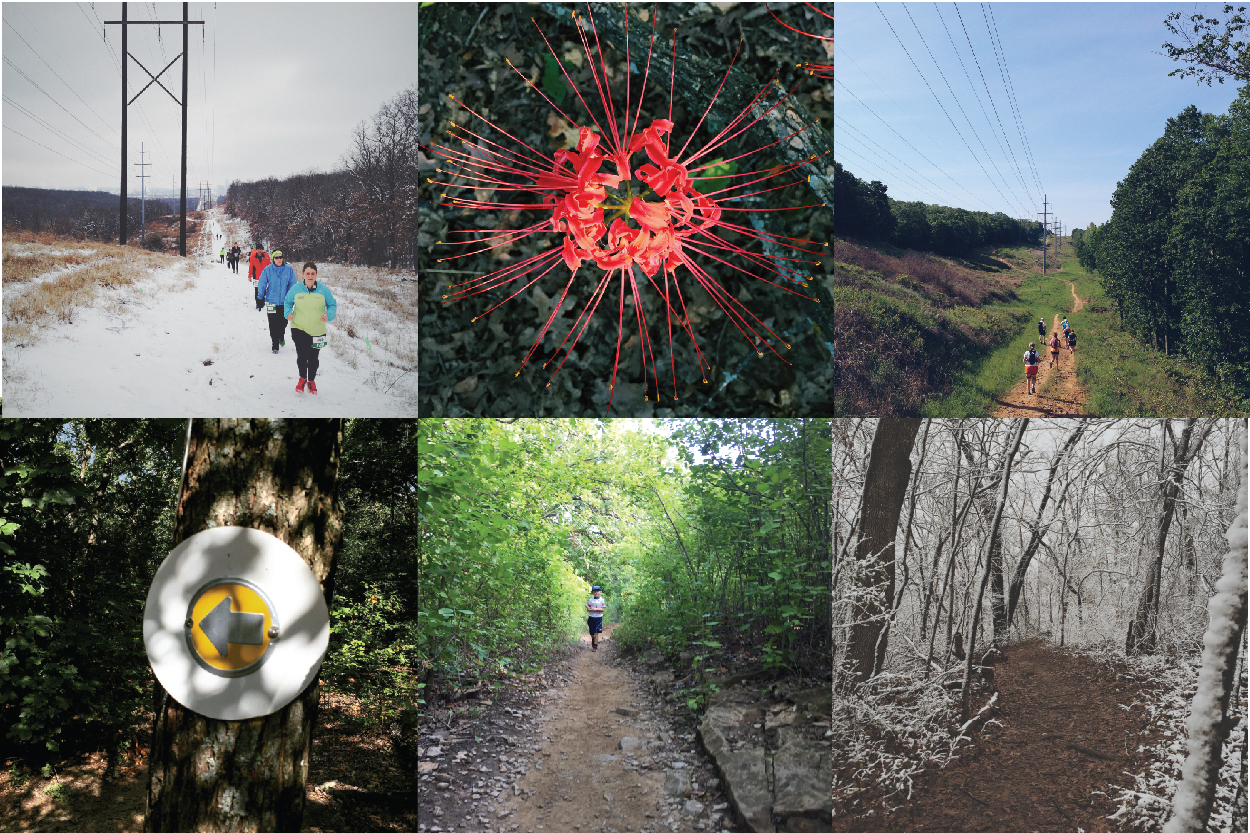 Turkey Mountain is uniquely Tulsa in that it is quirky, authentic, a little mysterious and beloved by those that know it best. Just like Tulsa itself can seem to outsiders like a generic town in a flyover state (which couldn't be further from the truth) Turkey Mountain is one of those places that many residents either have no idea it even exists or have outdated ideas of what goes on there.
Turkey Mountain is actually a hill with a summit only about 100 vertical feet above the Arkansas River. The Turkey Mountain Urban Wilderness Area is a public space extending from 71st Street to the South, I-44 to the North, the Arkansas River to the West and Elwood Ave/61st Street/Highway 75 to the North. Its 300 acres contain several miles of marked trails which only represent a fraction of the mostly unmarked 30+ miles of trails open to hikers, mountain bikers and equestrian use. While there are now several shelters and restrooms in the main parking lot (at 68th and Elwood) the experience on the trail is quite primitive, allowing for a immersive experience that can make you forget that a highway is never more than a couple miles away. Dense foliage and undulating terrain can disguise the fact that you are never more than about a mile (as the crow flies) from the parking lot and it isn't unheard of for someone to lose their bearings and become quite lost on the trails, usually going in circles a few times before finding their way back. Once you've got an idea of the layout of the area, and have a few landmarks to guide your way this sense of "being lost" while not in danger of actually going too far is part of the appeal of this "Urban Wilderness". For years Turkey Mountain has been becoming more accessible and family friendly and has never been more popular because of the recent controversies surrounding independent proposals to develop parts of the area for an amusement park and an outlet mall. Those who love Turkey Mountain and its unique qualities fought tooth and nail to stop the developments and thousands have discovered this hidden-in-plain-sight gem since as a result of the media coverage. Even with increasing popularity, Turkey Mountain retains a sense of wild and mystery and is best explored with family and friends.
Turkey Mountain is my favorite place to run in spite of  because of its many quirks, such as:
you can tell which way the wind's blowing based on whether or not you can smell the "stink plant"
you can plan out a route with landmarks like The Washing Machine, Pepsi Lake, Moon Landing, or "That really long, steep hill"
you will probably run up on a deer at some point
you will get a little sad when you realize you know the trails well enough to not get lost
some trails are so technical that runners travel them faster than the mountain bikers
the futility of looking at a map of the trails
petroglyphs
For an outing on Turkey Mountain, be prepared to be out for at least twice as long for the same distance as a run or walk on the road, and always bring a cell phone and plenty of water with you!
For more information about Turkey Mountain Urban Wilderness Area, click HERE.
To learn about our FREE Mountain Goats Trail Club meetups every Sunday, click HERE.
Get out there and get dirty, my friends.