80% OF WOMEN
ARE WEARING THE WRONG SIZE BRA
MEASURE YOUR SIZE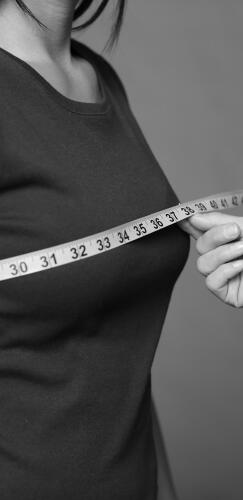 1. Determine your band size by measuring the smallest distance above your bust. For odd numbers, round down.
2. Measure around the fullest part of your bust.
3. Determine the difference between the two measurements. Use the chart to match that number to the corresponding cup size.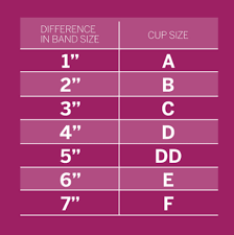 ---
We value that our customers are equipped with the right products that fit properly and support their activities.  That is why we recommend getting fit by one of our specialists to ensure you're getting the right bra for you.  Stop by your local store to meet with one of our highly trained fit professionals who will help you find the sports bra for your size and activities. 
EVERY BODY NEEDS A BRA THAT FEELS GOOD
WE RECOMMEND A MINIMUM OF 3 BRAS:
ONE TO WEAR. ONE TO WASH. ONE TO SPARE.
ADVICE FROM OUR EXPERTS
---
Patsy, Bra Expert - West Hartford
"The correct sports bra is just as important as the right shoe.  They are both a foundation that need proper support and should be re-evaluated periodically."
Ellen, Owner & Bra Fit Extraordinaire - Rochester/Buffalo
"If you find a great sports bra, get it in every color!  It's like finding the perfect jeans, you'll want more than one."
Amy, Bra Manager - Pittsburgh
"If you are replacing your shoes it's probably time to replace your sports bras. Sports bras wear out just like shoes and if you aren't sacrificing comfort and support for your feet, you shouldn't sacrifice comfort and support for your chest."
GET MORE MILES OUT OF YOUR BRA
---
We want you to get the most out of your gear. A quality sports bra typically lasts about 1 year. Here are a few care tips to help your bra go the distance.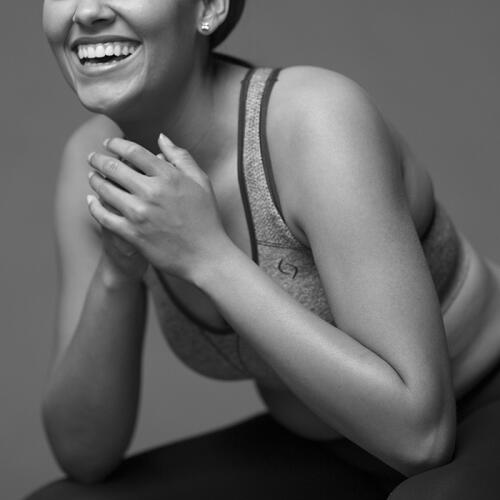 1. Close the hook and eye, and any Velcro straps. Place in a lingerie bag.
2. Use detergent designed specifically for performance apparel, such as Sport Wash.
3. Avoid fabric softener which can leave residues and inhibits moisture-wicking properties.
4. Wash in cold water on a delicate cycle.
5. Hang dry.
Feeling really dedicated? Hand wash your sports bra.