The days are already getting shorter, and if you run or walk in the morning you're likely already starting your workouts are probably starting in the dark. Don't wait until winter to think about adding safety gear to your kit. Did you know that drivers can see pedestrians from up to 6X farther away when wearing proper visibility gear such as reflective bands, LED lights, headlamps and flashlights. Additionally, lights and reflectivity worn on the arms, hands or feet are more easily recognizable by drivers as pedestrians. For dark morning and evening runs, we recommend having at least two pieces of reflectivity or "active" visibility such as a headlamp or flashlight.In addition to being seen, it is often important to see where you're going, especially on dark residential streets, trails, or the sometimes uneven and pothole-strewn streets of Tulsa.
Here are a few versatile options to keep you as safe as possible on the roads and trails.
Nathan StrobeLight $10: Small, light and brighter than you would think, the Nathan StrobeLight is our go-to for dawn and dusk runs when it's more important to be seen. Clip this slim light anywhere (clothing, shoes, hat) and it will run for 100+ hours on inexpensive photo batteries. Available red, green, orange and fuchsia.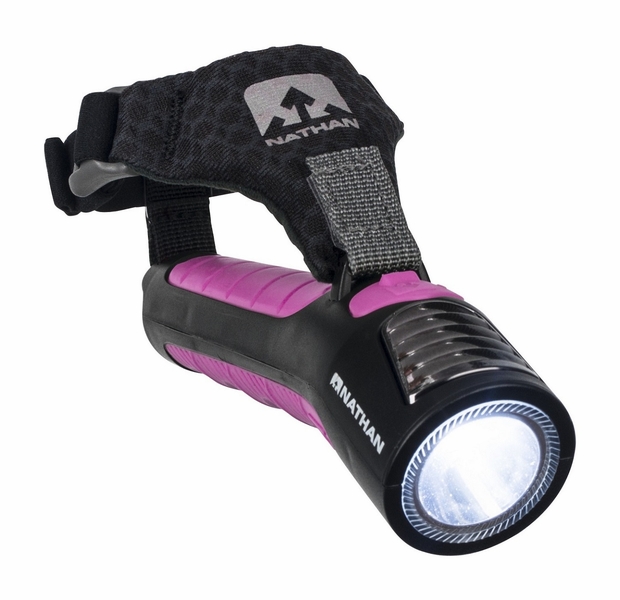 Nathan Zephyr Fire 100 Hand Torch $45: a new active visibility option for those who don't like to run with a headlamp, the Zephyr Fire 100 has 108 lumens of front-facing light to both see the path ahead and alert oncoming traffic and a bright, rear-facing, red LED for extra visibility. Additionally, the adjustable hand strap holds on to you and the flashlight is rechargeable and will run up to 5 hours on Hi, 8 hours on Low, and 15 hours on Strobe. Available in black/pink and black/yellow.
Nathan Streak Vest $27: For true 360 degree visibility, a vest is your best bet. This lightweight, adjustable reflectivity vest is a best seller for its quick and easy adjustment and incredible visibility. There are also loops for easy attachment of LED lights. Available in Hi-Viz Yellow and Hi-Viz Pink.
In addition to the perfect safety gear, remember to run or walk facing traffic so you can see traffic coming, carry a phone and identification and go with a buddy whenever possible for the safest running and walking possible.
Lance Miller
Product Manager - Fleet Feet Sports Tulsa