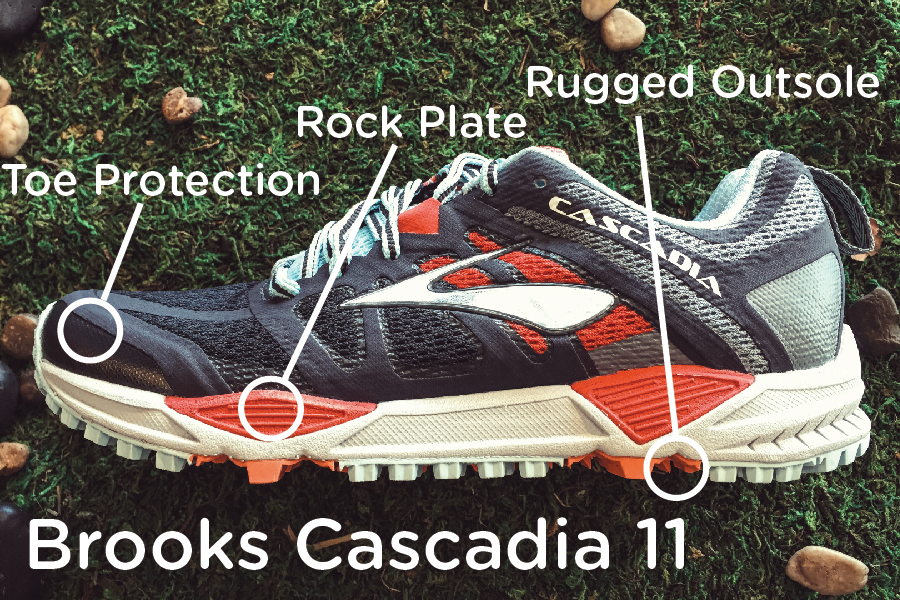 1. High-Traction Outsole: Trail shoes may vary in terms of weight, protection and fit but they should all have a tread pattern designed for extra grip on steep climbs and descents. Look for a rubber that will feel softer to the touch than a road shoe for an outsole that will excel in wet conditions.
2. Durable Upper: One of the biggest reasons to use a trail shoe instead of your road shoe is to prevent abrasion wear from rocks and roots. The upper on trail shoes may not feel as plush but you'll appreciate the durability after a few run ins with jagged rocks.
3. Toe Protection/Toe Bumper: Look for a bit of extra protection around the toe box of the shoe to help avoid stubbed toes (or worse).
4. Rock Plate (optional): Whether you end up getting a shoe with a rock plate (thin, protective layer of plastic in midsole of shoe) or not, you should know if it's there. Traditional trail shoes tend to have them but the new crop of lightweight trail shoes tends to go without or incorporates it into the outsole. Note that shoes with rock plates will feel stiffer for road use.
5. A shoe that feels right to you!  Even if a trail shoe matches all your wants and needs on paper, fit, feel and comfort is still the most important factor with any pair of shoes so get FIT properly for your trail shoes.