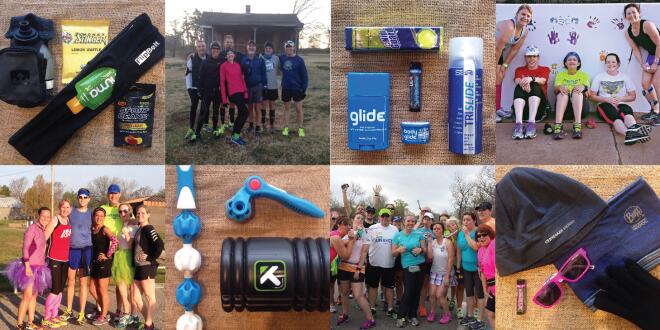 Spring training starts with frigid temps and short days that give way to spring's warmer days, high winds and unpredictable weather. For a successful season, you need more than expertly-FIT shoes, sports bras and apparel – you need this week's Fleet Feet 5 Essentials for Spring Training.
1 - Skin Protection: Nothing so seemingly trivial can derail a workout faster than chafing or blisters. Prevent hot spots with skin lubricants like Body Glide and TriSlide. Protect against wind-chapped lips with Naawk lip balm. And, guys, you know you need a set of Nip Guards in the bag, just in case. (You're welcome.) 
2 - Injury Prevention: Early morning runs on cold legs and increased mileage can lead to soreness and overuse injuries quickly if you're not doing some preventive maintenance. An Addaday handheld roller (like the TYPE-A pictured here), a foam roller and a travel roller are your best allies in the fight against stiff legs.
3 - Visibility: See and be seen on your workouts. That all-black running kit may look sleek but those oncoming cars can't see it and can't see you! No matter your fashion, a few well-placed visibility items can alert even distracted drivers to your presence. We like Nathan's bright and compact Strobelight and Black Diamond's Ion Headlamp. If you wear a cap, Amphipod's Swift Clip light is brighter than you'd expect, especially in flashing mode.
4 - Hydration and Nutrition: You need fuel and somewhere to stash it, a small handheld water bottle like Nathan's Blacklight QuickShot holds 10oz of water and enough room for a few gels and small essentials. The popular FlipBelt holds your phone, nutrition and cash for a post-workout latte all in a zipper-free, buckle-free, Velcro-free belt.
5 - Headwear, Handwear and Eyewear: Gloves and beanies are absolutely essential for winter running, and a Buff can serve a variety of purposes including a full head covering for cold and windy days. Don't forget that protective eyewear is just as important in winter as in summer – we love Tifosi's new Hagen frame which are stylish enough to wear all day.