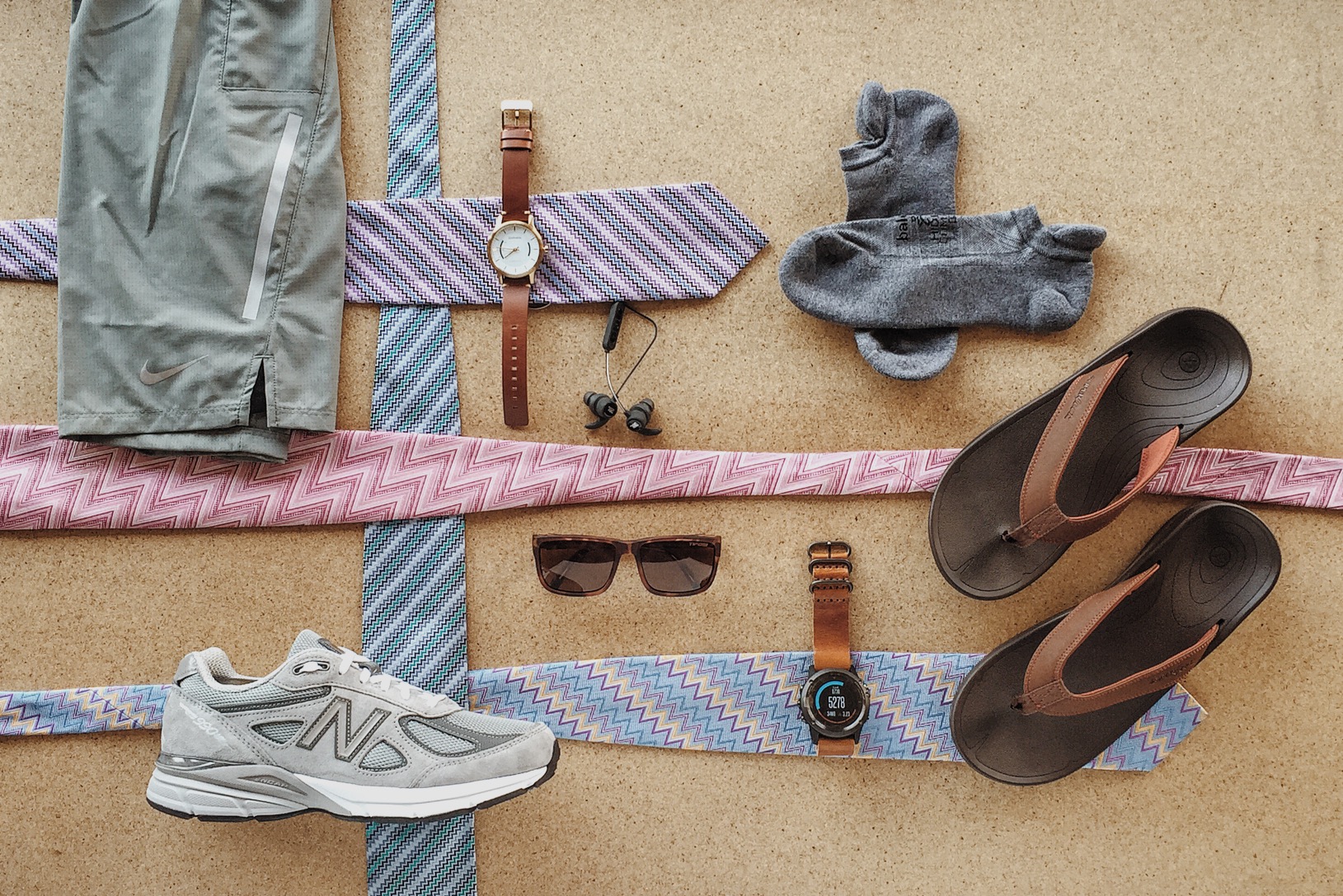 Clockwise from Top Left.
1) Nike Phenom 2-in1 Shorts $70: Running shorts are the second-most important piece of gear for the male runner and this premium 2-in-1 short from Nike is a perennial favorite with its Nike Combat liner, ultra-breathable shell and holster pockets large enough for most smart phones.
2) Garmin VivoMove Premium $300: for the dad that has to be a buttoned-up at work, here's an activity tracker that looks just right with a suit and that tie you bought him last year.
3) JBL Reflect Mini BT Headphones $100: You may not agree on music, but everyone can agree a featherweight pair of Bluetooth headphones designed for running is a great gift.
4) Balega Hidden Comfort Socks $12: So maybe not the most exciting gift ever, but a great pair of technical socks will certainly be appreciated for years to come (yes, years! if the don't get lost).
5) Superfeet Outside Sandals $60: Most dads we know find plenty of reasons to spend time in sandals or the summer so get him in pair that will be as comfortable as can be and supportive as well.The sleek support in this sandal is just right for the lake, the barbecue and a patio date night.
6) Garmin Fenix 3 Sapphire $600: Looking for something a little beyond the expected gift? The Garmin Fenix 3 is the do-it-all watch for the active dad - it can keep up with all the running, cycling, paddling and golfing you can throw at it (and it looks great while doing it).
7) Tifosi Hagen XL Polarized $80: With a polarized lens perfect for sports, especially on the water, these sharp shades strike the perfect balance of style and substance.
8) New Balance 990v4 $165: It may sometimes be called a "Dad Shoe" for its throwback looks but the New Balance 990 is just plain cool in our book and is entirely made in the U.S.A.