Do you want to impact others in a positive way? Do you enjoy being active and want to spread your passion to others? Do you like to learn about new products? Have you dreamed about a job in the running industry? Do you want to love to come to work? We are the door that leads to more opportunity.
Besides the fact that we get to wear running shoes and fitness clothes to work, we also enjoy working with our customers to find the right product and training solutions for their fitness goals. We get to learn all about the latest running shoes, premium insoles, great-feeling socks, cool looking tech apparel, and much more, all while helping our customers get healthy and fit! We also enjoy working together as a team as we strive to offer an incredible experience for our guests. We also get access to the latest in fit technologies like our brand new FIT ID 3-D digital foot scanner – the only one in the state of Oklahoma! Our environment is focused on our customers and helping them to get active and stay active. Our motto is: WE STRIVE TO CHANGE LIVES ONE SHOELACE AT A TIME. So if it is time for you to start doing something you love, then complete our Employment Application and start your journey to find a career you love! Consider joining our team and expanding your future with a local, family-owned business. We promote from within - if you're interested in getting into the Running and Walking Industry, take the first step with us.

Now Hiring Part-Time and Full-Time Employees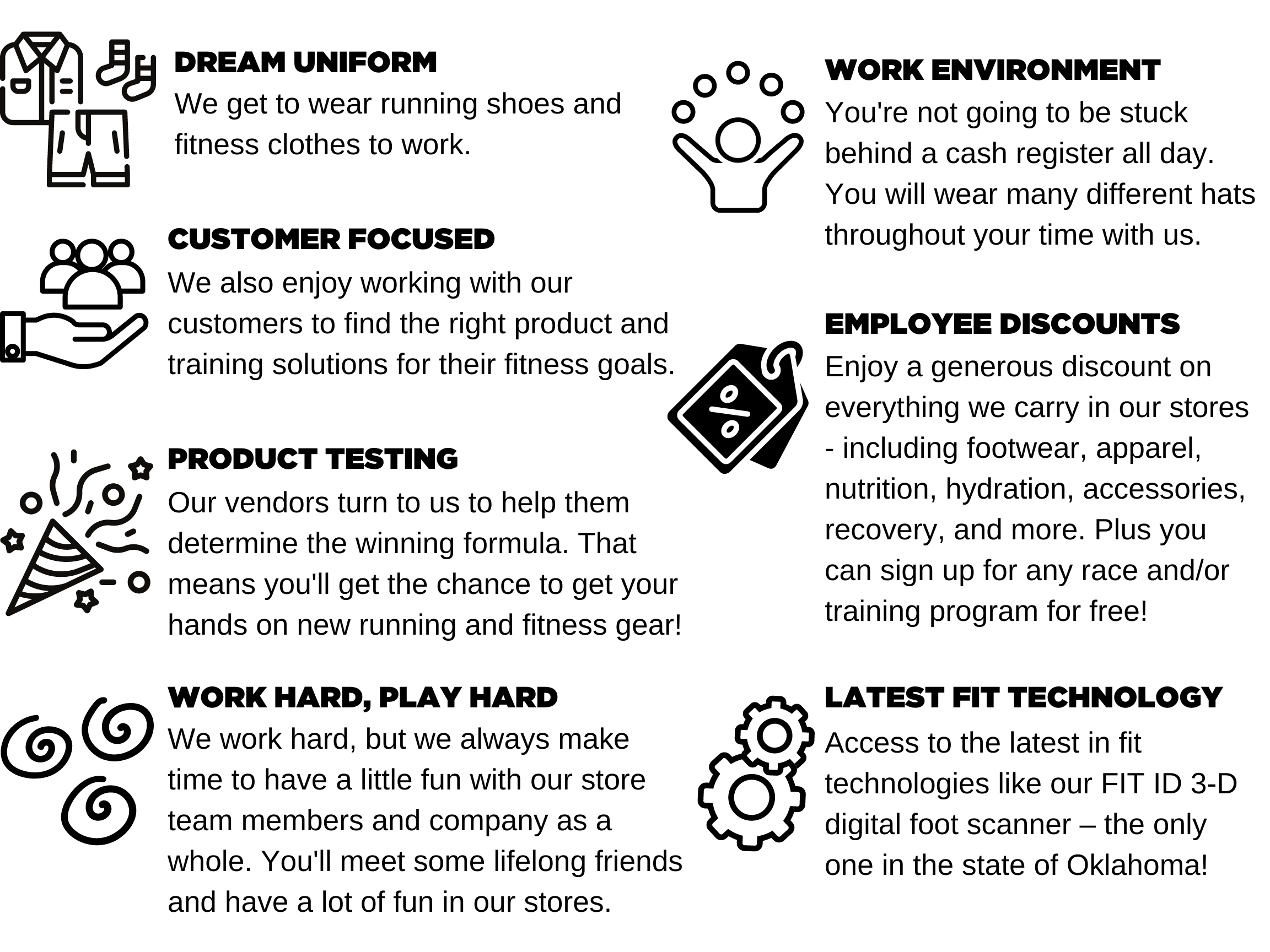 As a member of our Fleet Feet team, you will be trained in your specific job duties and you will work in a team environment. All positions on our team are "guest-focused" - our guests are the most important part of our business. We are currently looking for new Team members who have a flexible schedule and can work days or evenings and weekends. We prefer you to be flexible to work at ANY of our 3 locations in the Tulsa/Broken Arrow area. We offer extensive training, some nice perks, and competitive pay in a fast-paced, energetic, and rewarding environment. Please review our below employment section to make sure you are a "FIT" for our store. If interested, please follow the appropriate link to the position you're applying for and fill out and submit the application.