Join us for this scientifically-supported weight management program from Fleet Feet Tulsa | Broken Arrow and Generation UCAN!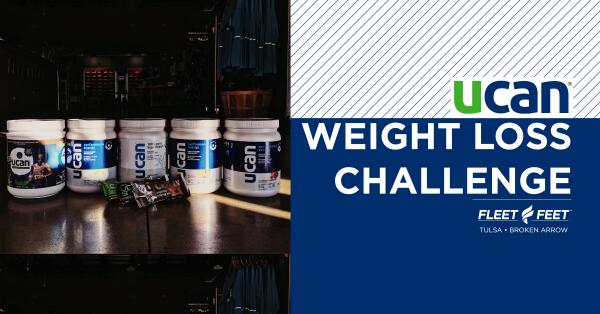 Register for the Spring 2019 UCAN Challenge HERE
January 21, 2019 - March 18, 2019

Cost: $25 (free to members of Spring Halfer In Training/Marathoner In Training, Winter Pathways, Winter NOBO, MGTC, and FFRC)
*** 
Lose weight. Get fit. Have fun!
Our UCAN Weight Loss Challenge program is a healthy weight management program for anyone interested in losing weight and working on their nutrition. This program will provide you with resources to lose weight in an effective and safe manner.
As a participant, you will work on your own to lose the weight, but we'll provide plenty of support, camaraderie, and encouragement along the way:
Weekly weigh-ins (any time during the week that works best for you during our normal hours of operation at any of our stores)
Private Members-Only Facebook Group, filled with discussion, tips, motivation, support, nutrition resources, success stories and weight loss tips.
Bi-weekly UCAN coupon – 20% off UCAN purchase of $60 or more, no maximum, one use only per 2 weeks
UCAN Seminar Friday, February 8th with sampling
Weigh-in Perks: check in first 4 weeks and get a $5 in-store coupon, check in every week to get $10 in-store coupon upon completion
Social Media Support Throughout the Program
One of the unique aspects of our UCAN Weight Loss Challenge is our social media community of support for participants. As part of the program, you will be invited to join our closed Facebook group page with your fellow participants. This has been a great outlet for communication, idea-sharing, encouragement and support. We also invite you to utilize the group to answer any and all questions you might have along the way! It's easier with a group to help you!
A Brief Overview of UCAN:
A unique formula, Generation UCAN is powered by SuperStarch, a healthy, natural, gluten-free innovation in carbohydrate nutrition. SuperStarch is a complex carbohydrate (derived from non-GMO corn) that uniquely stabilizes blood sugar and causes virtually no reaction from the fat-storage hormone insulin. When used correctly, Generation UCAN replaces the need for other nutrition products like gels and chews, delivering a cleaner, lower-sugar energy source. Originally discovered for children with life-threatening energy imbalances, SuperStarch is now embraced by athletes of all levels. Here's what Generation UCAN has to offer:
Optimized performance with steady energy when you need it, without the spike and crash of sugar and maltodextrin based products.
Sustained energy with time-released delivery of glucose, keeping you above baseline longer.
Enhanced fat burn allowing you to improve body composition as you burn fat for fuel during your workout and keep burning fat while you recover due to suppressed insulin response.
Speedier recovery as your body is able to use protein to repair and restore your muscles rather than for energy, since blood sugar is stable.
No gastric distress, because SuperStarch is a large molecule that passes through the stomach quickly and is digested slowly in the intestine
PROGRAM FORMAT
:
- The program will start on Monday, January 21 and will run for 8 weeks through March 18.  A GREAT way to lose weight before the summer!
- There will be a weekly weigh-in at each store to track your progress.
- The program will be focused on helping you learn to make healthier diet choices and ways you can use UCAN as a healthy meal replacement.
- There will be four opportunities during the program to buy UCAN at a 20% off discount to stock up.
- This program pairs well with the exercise elements of our training programs.
- Participants will be added to a private Facebook group for support, updates, and encouragement throughout the program.
- Participants will also receive weekly motivational and educational emails with tips, encouragement, and recipes.
FOR MORE INFORMATION:
Email lance@fleetfeettulsa.com or call us at 918-492-3338
PRICING: 

$25 (free to members of Spring Halfer In Training/Marathoner In Training, Winter Pathways, Winter NOBO, MGTC, and FFRC)
And, you can earn up to $15 back in vouchers, if you weigh in consistently (check in first 4 weeks and get a $5 in-store coupon, check in every week to get $10 in-store coupon upon completion)