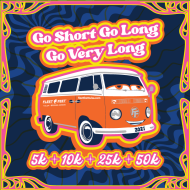 Want to run or walk the 25k or 50k at the 2020 Go Short, Go Long, Go Very Long race? But not sure where to start? We can help! Due to popular demand, we have created a special training program that will get you from the Route 66 Marathon to the 25k or 50k race on January 23, 2021.
Here's how it will work:
Eight weeks of training from Monday, November 30, 2020 until Saturday, January 23, 2020
Includes four weekday workouts per week (except on Christmas and New Years) - Monday at Blue Dome, Tuesday at TU Track, Wednesday at Broken Arrow, and Thursday at KingsPointe
Includes Saturday's from December 5 through January 16 (except December 12, which is the Rudolph Run)
Includes 4-5 select SUNDAY workouts. The key to running a 50k (or a 25k) is to do occasional DOUBLES, where you will run or walk long on both Saturday and Sunday.
All workouts will be coached with on-course hydration stations and pre-planned courses.
If you join this program, since it will overlap the start of the Spring HIT/MIT program, you will receive a coupon code for $15.00 off the Spring HIT/MIT program if you elect to continue training through the Spring for the OKC or Golden Driller Marathons.
Program assumes that if you are training for the 50k, you have run or walked a marathon in the Fall of 2020; and if you are training for the 25k, you have run or walked a half marathon in the Fall of 2020.
Note: if you register for this program you do not need to register for WINTER HIT or WINTER MIT as this program includes all that those programs offer.
All for just $79.00!
To Register, CLICK HERE