Train with us to complete your first or fastest 10K yet - whether you're running or walking!
Sign up today for one of our coached, motivational, and FUN 10K training programs for runners and walkers - Pathways or Walk FIT Distance!
---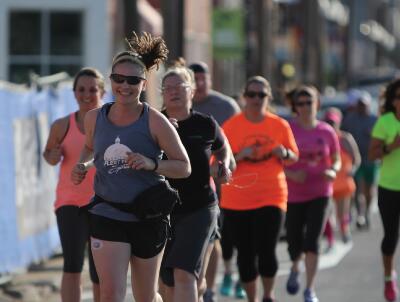 Pathways - Train to RUN a 10K
Pathways
is an 8 - 10 week coached intermediate running program that is proven to help you build your endurance. Pathways prepares you to run or run/walk a in an effective and safe manner.  This program is designed to provide a solid foundation for running longer distances so it is the perfect program for those who eventually want to train for a half marathon or marathon.  Pathways offers pace groups for various abilities with support, motivation and encouragement from experienced certified coaches. We also offer
15/30 Training
as an option in this program for those interested in training for a 10K through the use of 15 second run/30 second walk interval training.
Click HERE to learn more and register for Pathways.
---
Walk FIT Distance - Train to WALK a 10K
Walk FIT Distance is an 8 -10 week coached walking program designed specifically to take your walking to the next level.  This program is also excellent for those wishing to eventually train for even longer distances because it provides the foundation and knowledge needed to successfully walk longer.
Click HERE to learn more and register for Walk FIT Distance.