Learn about our Footwear Fit Service
Fleet Feet Tucson is a locally-owned running, walking, and fitness specialty store.  We are dedicated to ensuring that runners and walkers of all levels are fit with the best footwear and apparel to meet their individual fitness needs.  


We also are committed to enhancing and growing our running and walking communities, offering educational resources, training and racing opportunities.

As part of the largest running specialty franchise in the nation, we have access to the latest industry knowledge and technology.  Our professional staff is focused on providing you a personal fit for your footwear.  We believe that a proper fit is important in preventing injury and enhancing your experience.  We also strive to educate you about our apparel and accessory products.

First, we focus on your feet:  we listen to your fitness goals, aches and pains, and your most recent experience with your shoes. We measure your feet, assess your foot type, look at your current shoes and then we put you on our treadmill (don't worry, if you aren't comfortable on a treadmill, we will just watch you walk or run, without the treadmill).  We believe the only way to truly evaluate your feet is to watch you in motion.  If you try out the treadmill, we provide video gait analysis from three different angles (you get to watch your feet on TV!).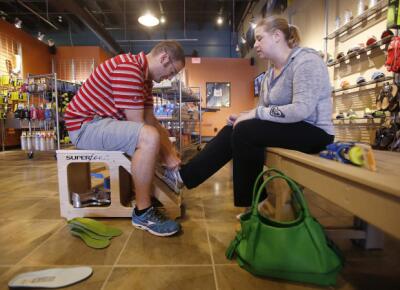 Then we make some recommendations for the right shoes for your particular needs and encourage you to "drive" them by getting back on the treadmill or heading outside.

We also want to know what other products you need to make your fitness experience more enjoyable.  Are you looking for socks that breathe? A technical top that wicks away the sweat? Shorts or pants that fit properly?  We will assist you in your selection and be glad to answer any questions you may have about the products.  

If you are looking for something we don't carry, we'll do our best to get it for you in a timely fashion.

Whether you are training for a marathon or beginning a new fitness program, we want to be your equipment headquarters.  Whatever your individual goals may be, your success is our success.
Have a question? Send us an email.