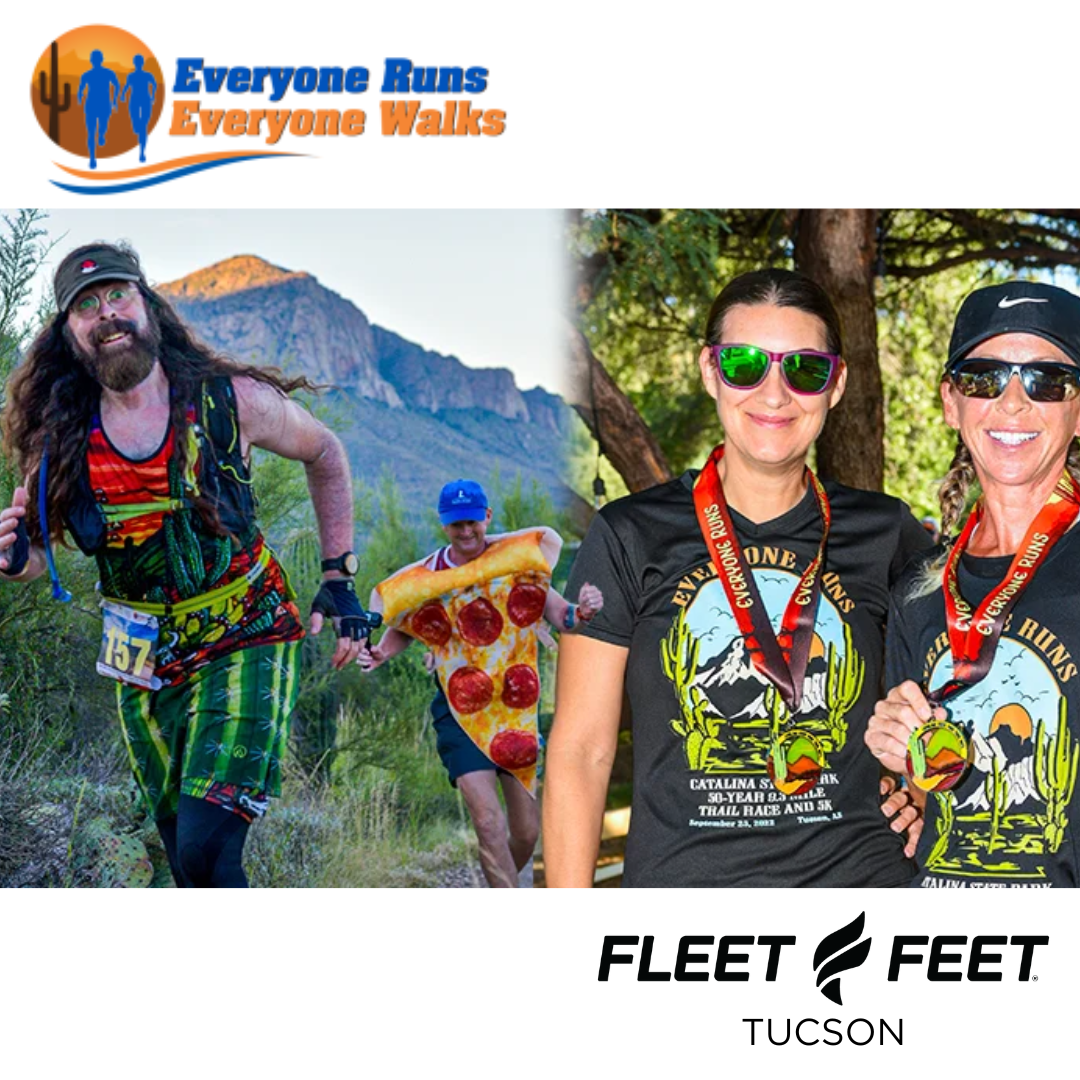 For over 15 years, Fleet Feet has been a proud sponsor of the Everyone Runs, Everyone Walks events. As many of you know, Everyone Runs always produces super fun, well-organized races with lots of value for your running dollars.
On Sunday, September 24, it's time for the Holualoa Catalina State Park 50-Year Trail Race and 5k Trail Run & Walk.
Southern Arizona's newest trail race was a big hit in 2022! There are two distances - a 9.3-mile run and a 5k run/walk.
The 9.3-mile run begins at the Nature Trail, then to the Bridal Trail to the 50-Year Trail (2.7 miles up), and a turnaround at the gate to go back down and off to the Bridal Trail to the finish. The 9.3-mile event is only open to runners.
The 5k easy trail run is open to runners and walkers and will be run on the Nature Trail and Bridal Trail.
With your registration, you'll enjoy our homemade Mexican breakfast, free professional race photos to download in any size, free shaved ice from AZ Sun Ice, quality finisher shirts in cotton and tech (male and female sizing), and overall and 5-year age group medals for 1st, 2nd, and 3rd place. Overall winners will take home free running shoes from Fleet Feet! Come join the fun.
Everyone Runs, Everyone Walks is a local company that prides itself on its inclusive and fun atmosphere. Their races are incredibly affordable and perfect for the beginner all the way to the advanced runner. With many races throughout the year, there is something for everyone!
For more information and to register, visit everyoneruns.net or click here!